Are you looking for the best brand hair systems to help restore your natural look? Look no further than LordHair! With a wide range of options, styles, and colors available, LordHair has something to suit everyone. Whether you're looking for a full-cap wig or a toupee with an undetectable lace front, they have it all.
In this article, we will review why LordHair is one of the best brands in the industry when it comes to hair systems. We will discuss their high-quality materials and craftsmanship as well as their commitment to customer service. Read on to learn more about why LordHair is the perfect choice for your hair system needs!
Best Brand Hair Systems: Attributes To Consider
With so many options out there, it can be difficult to choose the best brand hair system for you. Consider these tips and select a product that offers quality, comfort, durability, and value for money in one package.
Quality
The quality of the hair system should be one of the top considerations when choosing a brand. Look for brands that use high-quality Remy hair or human-grade synthetic fibers that are designed to last and look natural.
Comfort
Choose a hair system with an adjustable base that will provide comfort against your scalp as well as help prevent skin irritation and infections due to sweat or dirt build-up over time.
Durability
Look for a brand that offers durable systems made from superior construction materials, such as breathable fabric bases and reinforced stitching along with strong adhesives to ensure the longevity of your unit's wearability.
Value For Money
Compare prices between different brands before making your purchase, ensuring you get the best value for money in terms of quality without breaking the bank too much!
Variety Of Styles & Colors
Ensure that you select a brand offering numerous styles and colors so that you can choose exactly what suits your desired look and feel most effectively while remaining within budget constraints if necessary!
Best Brand Hair Systems – LordHair Review
You probably wonder what makes LordHair one of the "best brand hair systems"; and below you'll find just a few of the reasons why.
High-quality
LordHair offers high-quality, natural-looking hairpieces that are virtually indistinguishable from one's own hair.
Comfort
Their products are designed with comfort in mind, using breathable mesh and lightweight materials to provide an airy fit that is comfortable to wear all day long.
Range
They offer a range of color options, so customers can find the perfect shade for their needs.
100% Satisfaction Guarantee
All their pieces come with a 100% satisfaction guarantee – if you're not happy with your purchase, they will work with you until it meets your expectations or replace the product free of charge!
Customer Service
LordHair takes pride in providing luxurious customer service – they have friendly experts on hand to answer questions and assist with selecting the right hair system for each user's individual needs and preferences.
Affordability
With unbeatable quality and affordability, LordHair is one of the best brands for hair systems available today! If you're looking for a new hair system that looks natural and fits comfortably, it's definitely worth checking out what they have to offer.
Experience
For more than ten years, Lordhair has been creating non-surgical hair replacement solutions. Their focus is on delivering systems that are both affordable and feature a natural look, durable materials, and a realistic hairline. They have customers in over 100 countries and offer discounts on their products. If you're a first-time purchaser, they offer additional savings available to you.
Ready to Wear
Their products at Lordhair are made of top-notch quality using 100% human hair sourced from India, Europe, or cuticle intact virgin hair. Additionally, they can customize your hair system by cutting and styling it before shipment, so you can start wearing it right out of the box.
Easy to Order Online
The website is easy to use and navigate with search tools, filters, and tags to help you find what you need. You can conveniently place orders by using our highly visual online order form, regardless of your specifications, in just a few minutes.
Best Brand Hair Systems – LordHair Popular Options
---
Lordhair Toupee for Men is the ideal solution to hair loss in men.
This high-grade toupee provides a real and natural hair replacement system with 100% human hair–medium-light density, front 1/2″ hairline with V-loops, single split knots, 8″ x 10″ size, 3.0cm slight wave, and 5-6 inch length.
It is incredibly cost-effective and easily customized to fit clients' needs. Lordhair offers one of the best brand hair systems guaranteed to help you look your best while giving you confidence again.
---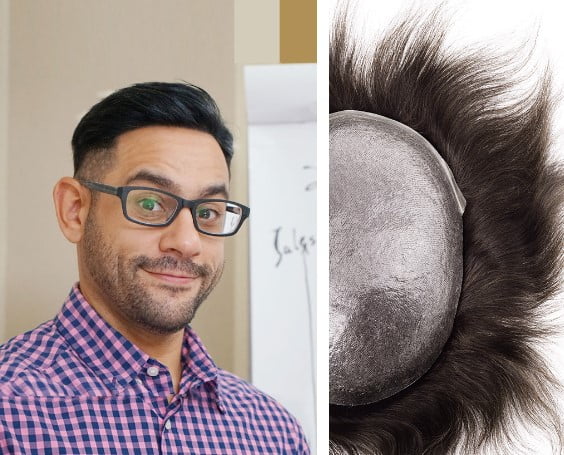 Lordhair Toupee for Men with 100% European Human Hair is the perfect solution for men experiencing hair loss.
This high-grade product is crafted with medium-light density real human hair and a 0.06 mm super thin skin base to ensure that your hairline stays undetected, giving you confidence in any situation.
The toupee features an 8" x 10" size and 5-6 inch long waves to meet all customer needs, as well as offer professional customization options on the trims and hairstyles.
Lordhair is one of the best brands available when it comes to hair systems – no longer worry about lack of confidence with their unbeatable quality.
---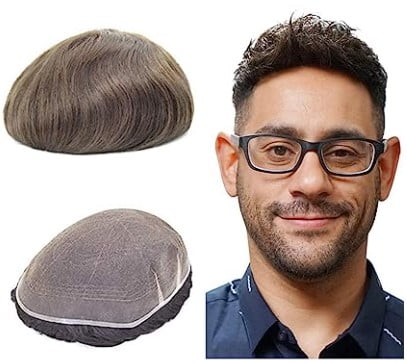 Lordhair Toupee for Men is a high-end hair system that features 10A-grade European human hair. It features an undetectable full French lace and innovative, medium-light density construction to mimic natural real hairs.
The base size measures 8″ x 10″, while the hair length ranges from 5 to 6 inches, making it easily customizable to suit all your needs.
Lordhair Toupee combines the best quality materials with craftsmanship, providing a durable solution for men's toupees with the look of real hair.
---
Common Questions About Best Brand Hair Systems
Why choose LordHair as the best brand hair systems?
Their top-quality non-surgical hair replacement systems and accessories are delivered to over 180 countries. The hair systems are highly rated by satisfied customers in countries such as the USA, UK, Canada, Spain, Germany, and India, including both individuals and salons.
The brand places a strong emphasis on quality, customization, and after-sales support, making them the leading supplier of hair replacement systems worldwide.
What is the Return & Refund Policy at the Lordhair Store?
To initiate a return or refund from Amazon, please refer to the Amazon Return Policy document and the Amazon Refund Policy document. In case of any questions or concerns, you can contact the seller for assistance.
It's important to note that items can be returned within 30 days if they are defective, damaged, or incorrect. However, the products must be sold and/or fulfilled by Amazon (FBA) directly. If not, the customer may be responsible for the cost of return shipping.
How to check your Lordhair Store Order Tracking?
You haven't received your Amazon order yet. Visit amazon.com and follow these steps to track your package sold by Lordhair Store:
1. Go to Your Orders.
2. Locate the order you want to track.
3. Click Track Package next to your order.
4. Click See all updates to view delivery updates.
If you have any questions about your package's tracking information, you can find more help by clicking here on the Order Tracking Page.
How to get a refund from the LordHair store?
To request a refund for an order, follow these steps:
1. Go to the "Your Orders" section.
2. Find the order you want to request a refund for.
3. Click on the "Problem with order" button.
4. Choose the problem you're having from the list.
5. Click on the "Request refund" button.
6. Enter your comments in the text box provided.
7. Click on "Submit".
Final Thoughts
LordHair is a trusted leader in hair replacement systems, offering customers the highest quality and most advanced solutions to their hair loss needs. With years of experience in the industry, LordHair has developed an impressive array of products that are specially designed for any type of scalp condition or lifestyle.
Whether you're looking for natural-looking human hair pieces or synthetic ones with more longevity, LordHair's selection offers something for everyone. From their amazing customer service team to their top-of-the-line hair system designs, it's easy to see why they've become one of the best brands on the market today.
If you're searching for a reliable solution as the best brand hair systems to your balding woes, look no further than LordHair!