Are you looking for a way to enhance your appearance and boost your confidence? If so, then a duplicate hair system may be the perfect solution. A duplicate hair system is an artificial hairpiece that is designed to look and feel like natural human hair.
In this guide, we'll discuss the various types of duplicate hair systems available on the market today, their advantages and disadvantages, how to choose the right one for you, and more! So read on if you want to learn everything there is to know about the duplicate hair system for men.
Duplicate Hair System Explained
A duplicate hair system is a way to add extra hair to your head. It is like wearing a wig, but it looks and feels more natural.
It can be used to cover bald patches, add volume and length, or even completely replace lost hair due to medical conditions such as alopecia or male pattern baldness.
It is usually made of human or synthetic hair that is attached to a mesh base or a lace scalp. This duplicate system works by attaching the additional hair directly to your existing natural hair. You can choose from a wide range of colors and textures
Factors to Keep In Mind When Choosing A Duplicate Hair System
By considering these factors when choosing a duplicate hair system, you can ensure that it looks and feels great for years to come. With quality materials, colors, and densities at your disposal, you can achieve a beautiful and natural-looking hair system that will make you feel fabulous.
Quality of the hair
When choosing a duplicate hair system, it is important to consider the quality of the hair. Quality hair systems are made of 100% human Remy or virgin hair, which means that the cuticles of each strand of hair run in the same direction.
This prevents tangling and matting, ensuring your system looks and feels great for a longer period of time. In addition to this, quality hair systems have finer knots to mimic natural scalp growth, giving it a more natural-looking appearance.
Base material
The base material of your duplicate hair system is also worth considering when making your choice. Choose a base material that is light, comfortable, and breathable for everyday wear, as well as one that will fit your head comfortably and conform to its shape.
Some popular choices include French lace, Swiss lace, polyurethane, and mono-filament for a natural look.
Lace base hair system
The full lace base is one of the most commonly used bases for wigs or toupees.
This type of duplicate hair system is highly advantageous because the lace material gives a natural look to the hairline.
In fact, others may not even realize that you're wearing a hair replacement system, making it a great choice for a natural appearance.
Skin base hair system
Skin bases, including super-thin and ultra-thin options, are known for being the lightest and thinnest bases available on the market.
Ultra-thin skin systems are highly realistic due to their V-loop ventilation, but they can be fragile.
Monofilament base hair system
Monofilament bases are a resilient option among hair system bases.
This type of system tends to last longer than full lace or skin bases because it is usually constructed with poly or lace.
The poly layer provides extra durability which means that monofilament systems can accommodate greater hair density.
They are a great choice for people who want to wear hair systems semi-permanently.
However, it's worth noting that they are not as breathable as lace wigs.
Swiss Hair Wigs
Swiss lace hair wigs may not be as long-lasting as French lace wigs, but they offer a more natural look by blending better with the skin.
These wigs are also lightweight and comfortable to wear, allowing for ample airflow to the scalp.
Afro Hair Wigs
The afro hairstyle remains popular and is expected to continue being popular among men.
Afro hair toupees are made by hand-tying high-quality hair strands onto a premium base.
They are a great option for those who want to try out a distinctive hairstyle.
Color and density
When choosing a duplicate hair system, it is also important to consider the color and density of your new hair. Make sure you choose a color that will blend in with your existing hair, as well as one that will suit your complexion and style. Additionally, make sure you choose a density that matches the natural look of your hair.
Hair length
When you are looking for a duplicate hair system, think about how long you want your hair to be. Choose a length that will match your natural hair.
Price affordability
When choosing a duplicate hair system, it is important to think about how much money you can afford to spend. Make sure that you can pay for the system before getting it. Look around and compare prices from different suppliers to make sure you get the best deal for your money.
Maintenance requirements
When picking a duplicate hair system, think about how much work it will take to keep it looking good. You want something that is easy to take care of and that won't need a lot of special care. Take the time to read reviews of different systems and find out what kind of maintenance is required.
Fit and comfort
When choosing a duplicate hair system, it's important to think about how it fits and feels. Make sure it is comfortable to wear and fits your head well. It should also be light enough that you can wear it all day without feeling weighed down.
Brand reputation
When picking a duplicate hair system, look at what other people say about it. You want to buy something from a brand with a good reputation so that you know it will be high quality and last for a long time.
Duplicate Hair System for Men
---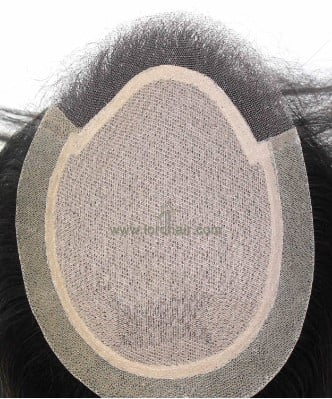 This Natural Looking Silk Top Lace Front Indian Human Hair Toupee is a great duplicate hair system for men, made up of three materials to provide comfort, durability, and a natural appearance.
The silk top offers strength and a smooth feel so that you can have the highest level of realism while the French lace front gives an invisible hairline for realistic-looking results. Additionally, thin skin provides a secure area where tape or adhesive may be applied with ease.
This toupee is designed to accommodate medium-density hair, making it an ideal duplicate hair system choice.
---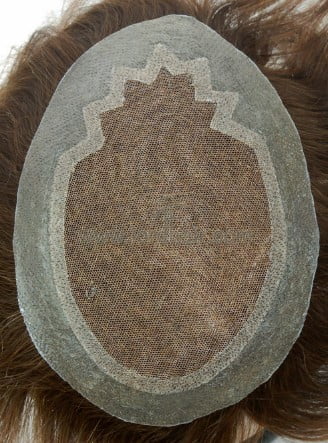 This men's hair system consists of a French lace center with an ultra-thin skin perimeter for maximum breathability and durability.
The V-looped hair in the perimeter adds an incredible level of realism, allowing the system to be styled in any direction for a natural look.
This system is perfect for anyone seeking a duplicate hair replacement solution that looks completely natural and will last through everyday wear and tear.
---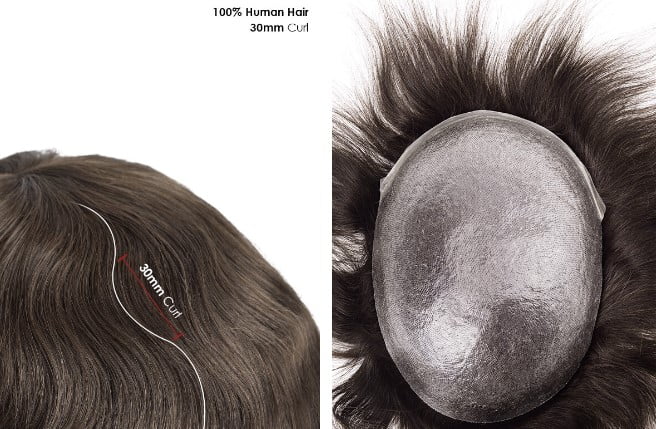 The Super Thin Skin V-looped Stock Mens Toupee is a high-quality, discreet hair replacement system.
The transparent polyurethane base and V-looping technology provide a seamless natural look that can be easily styled to your desired look.
With this no-hassle stock item, you can have the confidence of having full coverage and perfect duplication with an undetectable hair system immediately upon purchase.
---
Types Of Duplicate Hair Systems
Hairpiece or Toupee
There are toupees and wigs available in both natural and synthetic types. Natural toupees are made of men's natural hair while artificial hair strands are used for bald customers. Bald customers prefer natural hair toupees because they offer a more authentic look compared to synthetic hair units.
Wigs
Wigs cover the entire head of a bald person while toupees cover only a part of it. The main difference between a hairpiece and a toupee is the amount of bald area covered. Both of these hair replacement options are commonly used by regular people and celebrities alike. You can find these products for sale at a retail hair store in the city.
Common Questions About Duplicate Hair Systems
Why invest in a duplicate hair system?
Men may experience hair loss in middle age, mainly due to male pattern baldness. This can be a distressing issue, as losing head hair can lead to baldness. While there are various reasons for hair loss, medicines and surgical techniques may not offer a sudden or quick solution.
The only viable permanent solution is through the use of safe duplicate hair for men, which does not cause harm to the wearer.
How to find quality stores selling duplicate pieces?
To find the best hairpieces, consider both online research and asking hair experts you know. Look for a store that sells a variety of models from different companies and has a technical assistant who can provide in-depth knowledge of the features of the products. Be careful to choose a store with genuine products to avoid a fake or duplicate look.
Final Thoughts
Using a duplicate hair system can be an excellent way to achieve the look you desire without spending too much time and energy. It's also a great option for those who want to experiment with different styles, colors, or textures in their hair but don't want to commit long-term.
With its durability and natural feel, this type of hair extension is becoming increasingly popular among people looking for easy ways to switch up their looks on occasion.
Whether you're new to styling your own tresses or just looking for something more convenient than traditional extensions, consider investing in a duplicate hair system today!