Are you currently struggling with hair loss but still have some hair to work with? If you have recently felt like giving up as nothing seems to work and all other hair loss concealers just aren't doing it for you, do not worry. Hair fibers might be just what you need. The reason why today we'll be telling you all about some of the best hair fibers brands.
Forget about the shame of hair loss and get yourself one of the best hair concealers for thining hair on the market. The reasons why you lose your hair could be many, but what you do about it is what matters. Hair fibers are a great way to deal with this issue that affects millions.
As you may imagine, hair fibers is a product with a high demand and there's many different brands behind it. With so many options in the market, choosing the right hair fibers for you may seem a bit of a challenging task. To help you in the right direction, we've come up with a list of some of the best hair fibers brands currently available. Feel free to choose your favorite.
Hair Fibers FAQ's
What are hair fibers?
Hair fibers act as a hair concealing product, giving your hair a thicker, fuller, and natural look. The fibers are made of hair-like components or keratin proteins of real hair. They are tiny particles that cling to your real hair from the shafts, making your bald patches appear full. They come in the form of powder or spray for applying on your head or beard. These hair concealers match the color of your original hair, giving your thinning patches a good volume.
What are the best hair fibers?
The best hair fibers will give you a natural look, stay longer, not rub off, and prevent hair damage. The point is not to give away that you have used any hair product.
Whichever product you choose, it will be the one that covers the area you have the most hair loss. Different hair fibers cover different intensities of hair thinning.
There are hair concealers available for sensitive scalp too. A natural or keratin protein hair fiber product will ensure that your hair looks the best. Just make sure you select the right color, and you are good to go.
How long will hair fibers last?
The fibers will stay in your hair overnight with only a minimal need for touch-ups in the morning. If you are using it every day, some fibers will last about 30 days.
What is hair fiber made of?
Hair fibers are lightweight, teeny-tiny fibers made of keratin protein; the same keratin found in your strands, that can be applied to your hair and scalp to mask the appearance of thinning hair or bald spots.
Is hair fiber harmful?
Hair-building fibers do not have any known side effects. In fact, some report hair growing back while using hair fibers. Most Keratin hair fibers contain a long list of chemicals and can cause irritation and itching.
Do hair fibers accelerate hair loss?
Hair fibers are very effective in camouflaging hair loss. The hair fibers are made of the same protein as real hair: keratin. Using hair fibers will immediately improve the look of the thinning hair, but it takes some practice to style the hair properly and to make the thinner spots appear fuller using the hair fibers.
How to apply hair fibers?
Choose the color that best matches your root color.
Spot the thinning and bald spots on your scalp or beard.
Shake or Pump (using the Pump Applicator) the fibers into the thinning area. Apply the hair fibers in the correct amount, good enough for them to adhere to your existing hair.
Lightly Pat in between shakes so that fiber fall naturally into the thinning area.
Keep a cloth on your forehead, perfectly in sync with the shape of your original hairline. Then sprinkle the hair fibers on the crown and temple accordingly. Let the color settle with your natural hair. The cloth helps prevent skin-staining.
Use a locking spray to lock the fibers into place and also give the fibers some shine; making them stay longer, especially on the crown.
Hair Fibers
Toppik Hair Building Fibers, made of colored keratin protein, blend undetectably with existing hair strands to instantly create the appearance of naturally thick, full hair.
Get everything you need to transform fine, thinning hair in seconds. At Toppik, we are committed to delivering results you can actually see in the mirror.
Toppik gives the instant appearance of a thick, full head of hair. Toppik Hair Building Fibers are made from natural Keratin of the highest grade, the same type of protein found in real hair, which makes it look completely natural and undetectable.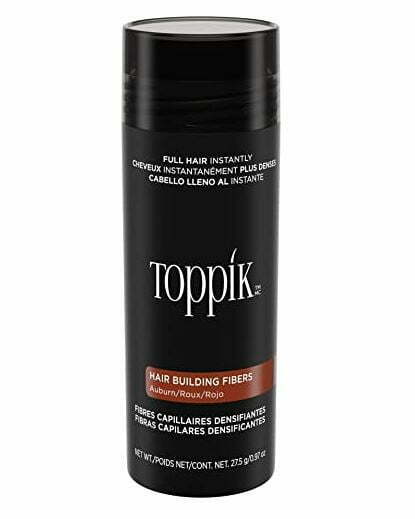 Features:
Natural Keratin
3 Ounces
Versatile
XFusion Keratin Fibers are the professional thickening fibers from the makers of Toppik. It has a static coating that enables them to cling even to fine, thin hairs, instantly creating the appearance of naturally thick, full hair.
Shake or spray Keratin Fibers into thinning areas. Gently pat hair to disperse Keratin Fibers. lightly comb.
XFusion Fibers stay on all-day and wash out easily with shampoo.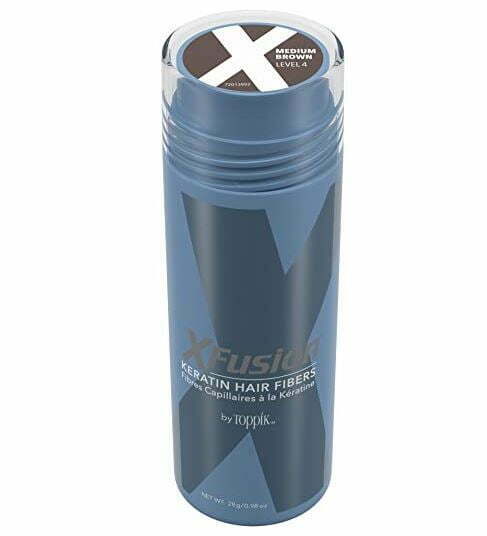 Features:
FEBRON Fibers were designed first and foremost for the entertainment industry and therefore they are totally undetectable even under ultra bright stage lights and cameras.
Unlike other brands, FEBRON's ultra light weight fibers won't weigh your hair down allowing it to be styled much more easily and in ways never before possible.
Made from a 100% natural fibers source and are Alcohol, Gluten and Paraben free – Never tested on Animals.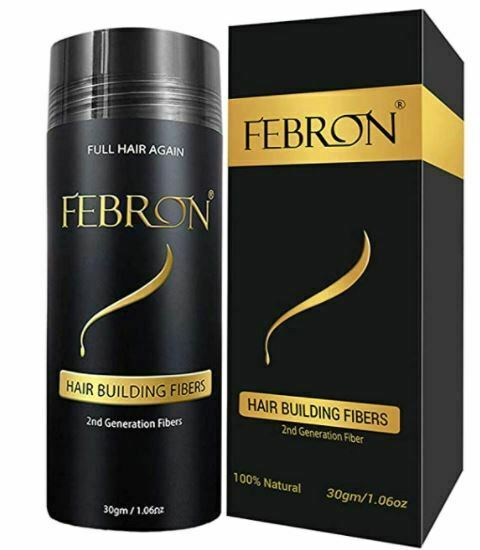 Features:
Rain, wind, and sweat resistant
Alcohol, Gluten, and Paraben free
100% Undetectable
Celebrity stylists love how these electrostatically charged hair-building fibers instantly cover every gap – adding shine, texture, and lift that lasts all day.
While competitor hair powders for thinning hair clump and weigh hair down, Get Back Gorgeous is crafted from the highest grade Keratin hair fibers.
Simply open, shake hair fillers for thinning hair over thin areas, and watch as the tiny hair thickening fibers cling to your existing hair follicles like super magnets – instantly filling, thickening, and providing full coverage over bald spots, thinning, and patchiness.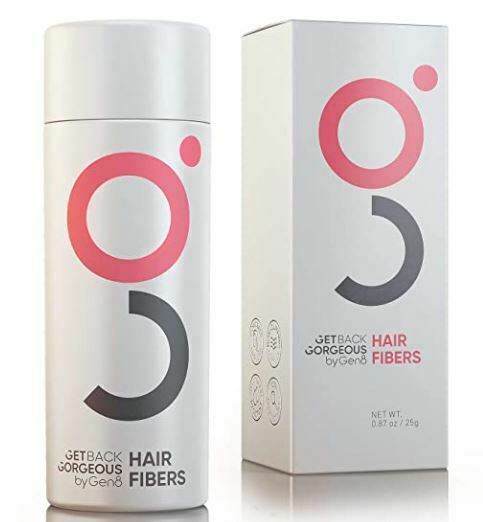 Features:
Instant coverage
Easy application
All-day coverage
Infinity Hair Fibers are an instant solution to thinning hair. They will not grow hair but they help conceal the looking of thinning hair in 30 seconds or less.
Infinity provides the instant solution to thinning hair to build up the hair for both men & women and stays in place up to a week. This hairspray does not carry any ingredient which can be harsh to your hair.
Infinity 30 second solution is easy, affordable and effective. The colored fibers give the appearance of thicker and fuller hair instantly. Infinity is a unique complex of origin keratin that will cover up the thinning hair.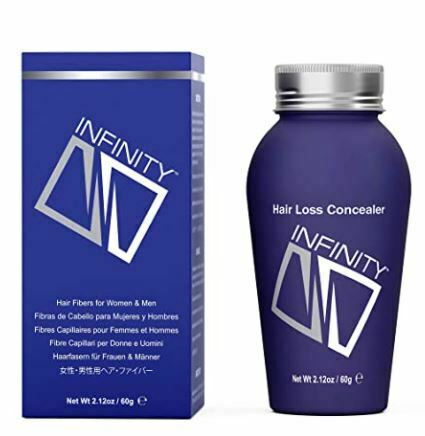 Features:
Easy to use
Long-Lasting
Keratin Hair Fibers
Take control of your hair with CUVVA Hair Building Fibers. CUVVA Fibers are a premium hair loss concealer made from high-quality natural keratin protein.
This is the same protein that your body produces naturally to grow hair, amplifying the natural static charge of keratin, making the fibers cling to and blend with your natural hair.
Extensively tested, CUVVA Hair Building Fibres work great with all types of hair, for both men and women.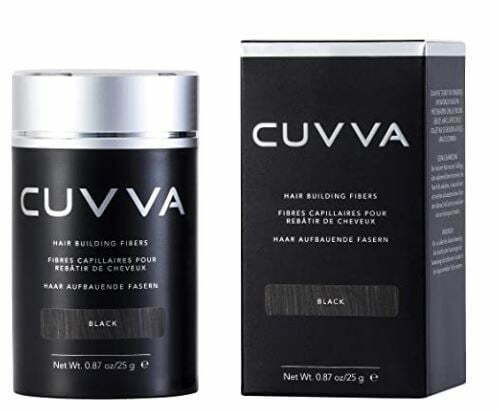 Features:
Makes fine hair appear thicker
Fills in wide part lines
Can camouflage extension tracks
Samson Hair Building Fibers cover and Hide Hair transplant and instantly fill in balding and thinning areas and conceal your hair loss.
Just shake SAMSON FIBERS directly onto thinning areas and watch the advanced fibers bond seamlessly to your existing hair, creating a completely natural-looking thick and full appearance.
Upon contact, the fibers are immediately attracted to the hair shafts, making thin hair seem many times fuller and darker due to thousands of tiny fibers clinging to the hair.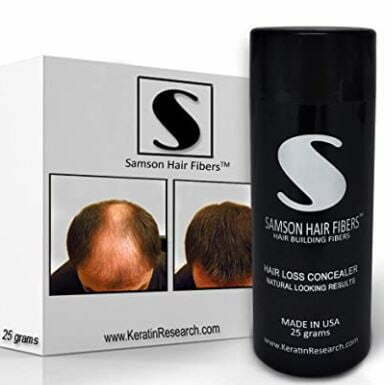 Features:
100% Undetectable
Lasts all-day
Hair-loo concealer
Hair Fibers Additional Tips
After you washed your hair use Argan Oil place few drops on your hand and rub your scalp gently, first its a great oil for your skin, secondly it helps the fiber stick to your scalp well and prevents excessive waste of fiber.
If you are applying to the back of your head, or can't see well the thin hair area make sure to use a large mirror so you can see it well.
Once you applied the fibers do not apply water to your hair. If you want to use a spray, start with light spray first wait few seconds and check if you need more. Don't over spray
You must have some hair for the fibers to hold on to, be surprised you might have more hair than you thought once you apply the hair fibers you will notice that.
Carry an extra container in your car, purse, and office desk wherever you may need it, in case you need to touch up or leave home without it.
The use of hair fibers will not affect you if you are using any medication or treatment for hair loss.