Women and men alike have been wearing hair systems for centuries to cover up thinning hair, baldness, or just to change their appearance. Hair systems are a great way of creating a new look without undergoing any permanent changes. But the question remains, how do hair systems look in person?
In this article, we will discuss the appearance of hair systems in real life, what types are available on the market today, and tips on how to make sure your system looks natural. We'll also be looking at some commonly asked questions about these products so you can make an informed decision before making your purchase. So if you're considering investing in a hair system but want to know more about its appearance first, read on!
How Do Hair Systems Look In Person Explained
With major technological advancements, it is now possible to create hair systems that are virtually identical to real hair. However, some hairpieces may appear more realistic than others, but you can easily find a natural-looking one by knowing what to look for.
But how do hair systems look in person? The answer depends on the type of system and the quality of the unit.
How Do Hair Systems Look In Person: Factors to consider
When it comes to how hair systems look in person, there are three main factors that should be considered: quality of the hair system, overall fit, and styling.
Quality of a hair system
The quality of a hair system is determined by the type of materials used to create it, as well as it's level of craftsmanship. A good quality wig will be soft, manageable, and tangle-free.
For example, lower-end units may have noticeable seams or uneven parts that can be a dead giveaway that you are wearing a toupee.
On the other hand, higher-end units often feature thicker, softer hair strands and more natural colors that blend in better. Additionally, some of the best hair systems come with lace or monofilament bases for a completely undetectable appearance.
Overall fit
When learning how do hair systems look in person, the overall fit and styling of a wig is dependent on the size, shape, and type of hair system you choose as well as how well it matches your own facial features.
Taking the time to ensure that the wig fits properly and is styled in a way that looks natural will help create a look that's both realistic and stylish.
Styling
Overall, there are a variety of factors to consider when selecting a hair system. Taking the time to research different types of materials, styles, and sizes will help ensure you find the right fit that looks natural in both photos and in person. With proper care and a styling routine, your hair system should last for many years.
Signs That Reveal Fake Hair:
Stiff neck: When a person appears reluctant to turn their head or look down when called or tying their shoelaces, it could be due to fear of their wig slipping off.
If there is a pronounced shadow on the forehead in the hairline area, it may be due to hair that is not growing properly from the person's scalp.
The hair is too thick and looks unnatural, which can give away that it is not original.
If someone's hair remains unaffected by humidity while everyone else's is frizzing, it could be because their hair is not natural.
It seems that the person might be wearing a wig if the area where the part is does not resemble a scalp. Also, notice the hairline. Parting ways can be bittersweet.
It's impossible to have hair that looks like it's been digitally retouched without some kind of assistance unless you are extremely skilled at hairstyling. Expect some tangles, split ends, and flyaways.
Wigs made out of artificial hair often have an excessively glossy appearance. This shine is not the natural shine you get from using conditioner or hot oil; instead, it looks like you applied furniture polish or varnish onto your head.
Why Hair Systems Are the Most Natural-Looking Option
Wig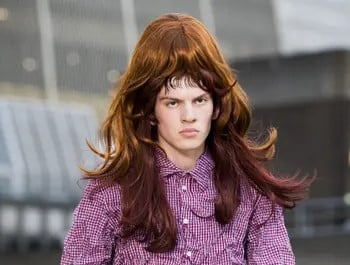 There are various types of wigs made from different materials such as natural human hair or synthetic hair, and each of them has its own method of attaching to the scalp. Wigs are typically used by people who are bald or have very little hair, usually not more than 5cm. They come with a base or cap, which can be made of rubber or lace with urethane strips for adhesive.
Hairpiece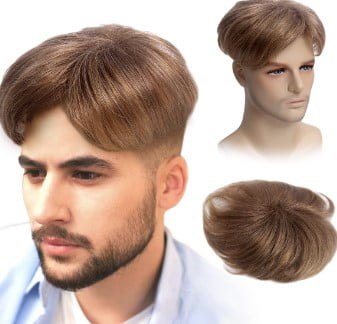 A hairpiece is designed to add volume to thinning hair, rather than being used to cover a completely bald head. However, some individuals may choose to use it for covering a bald patch.
Wiglet or partial wig
A wiglet, also known as a hair topper, is a hairpiece that is larger than a hairpiece but smaller than a wig. It is designed to cover only a portion of the head. Wiglets typically have holes to allow the natural hair to be pulled through, creating a more realistic look. Clips or combs are used to secure the wiglet to the head.
Hair weave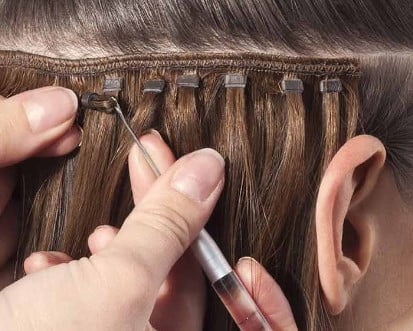 Hair weaves are a method of attaching extensions to the scalp by braiding the existing hair finely and using it as a base to attach the wefts or locks of hair to be added. This method is often associated with hair extensions.
Hair replacement system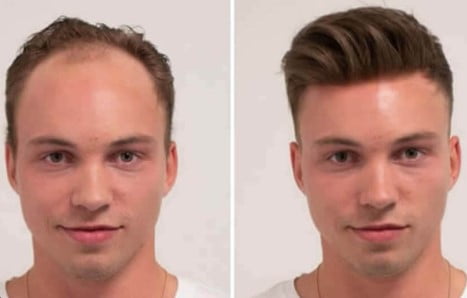 A hair replacement system is different from wigs, wiglets, or hairpieces as it is meant to be worn for a longer time, usually weeks or months, rather than just a day. It has a cap that is fixed to the scalp using durable adhesive, and it can be made with synthetic or real human hair, such as Remy hair.
How Do Hair Systems Look In Person: Tips for a Natural Look
Hair replacement systems have a natural look because of their material, secure fit, and easy styling. The confidence of the wearer comes from knowing the hair will always be in place and appear completely natural.
This means you can carry out your daily routine without worrying about having a stiff neck from trying to hide your forehead, constantly checking for a shadow, or being concerned about whether it looks too shiny, too perfect, or too noticeable.
A quality hair replacement system is designed to remain firmly in place as you move around, providing you with unparalleled confidence and a natural appearance. You can even swim with it, and it will only come off when you intentionally remove it for maintenance purposes. This is a level of freedom and convenience that other options, such as wigs or weaves, simply cannot offer.
Common Questions About How Do Hair Systems Look In Person
Can people tell you have a hair system?
When it comes to how do hair systems look in person, if you wear a hair system, is not really obvious to others. The system looks natural once it is applied. Although, if someone inspects it very closely, they will be able to see it, but in general, it is not noticeable at all.
Do you have to be bald for a hair system?
It comes as a surprise, but shaving your head is not necessary for a hair replacement system. This is due to the various methods used to attach or bond the system to your head, such as hard bonding, soft bonding, weaving, and clipping.
How long can you wear a hair system without taking it off?
It is important to not keep a lace hair system on for an extended period, as the adhesive may deteriorate and penetrate through the lace. It is recommended to remove and clean lace systems every 5-10 days.
Video Why New Hair Systems are "POOFY" and How I Make Them Look Normal
Wondering how do hair systems look in person, and worry if it will look good on you? In this video, you'll learn why hair systems tend to look "poofy" in person and what you can do to make them look normal and natural.
Final Thoughts
So, how do hair systems look in person? Hair systems are a great option for those looking to switch up their look without committing to permanent changes. Whether you're looking for something more natural or want an edgier style, hair systems can provide the perfect solution. With so many different types of hair pieces available today, it is easy to find one that looks and feels just right in person.
By understanding how do hair systems look in person, you'll find the system that works best with your lifestyle and budget while still providing the desired aesthetic results. By doing your research beforehand and visiting a professional who specializes in this type of work, you can be sure that your chosen hair system will look amazing when worn out in public!