Are you looking for a way to add color and vibrancy to your hair system? If so, you may be wondering if can you color/dye hair systems. The answer is yes! You can dye or color hair pieces with ease.
In this article, we'll discuss all dying hair systems and clear the air once and for all about "Can you color/dye hair systems" as well as learn the right steps on how to safely dye or color hair systems. By following these guidelines, you'll have no problem getting beautiful results every time!
Can You Color/Dye Hair Systems Quick Guide
Those considering a hair system always ask the question, can you color/dye hair systems, and are happily surprised to know the answer. This is one of the reasons why these hair replacement systems are so popular.
Know that you know it is possible, let's find out the proper steps to safely dye your hair system.
Wash the Dyed Human Hair Wigs
Prepare & Mix the Dye
Apply the Dye
Rinse and Shampoo the hair
Dry the Hair System
Use a Leave-in Conditioner
Can You Color/Dye Hair Systems Steps
Step 1: Wash the Dyed Human Hair Wigs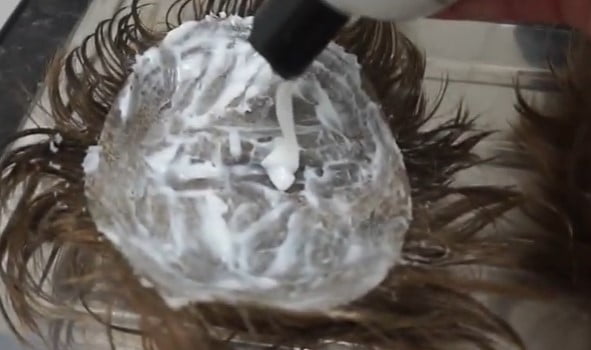 In order for the hair replacement system to accept the color properly, it must be cleaned. Use a gentle shampoo that doesn't damage the hair system to clean the toupee a few days before coloring.
It's important to get rid of any dirt, product buildup, coloring, or pollution on the hair. Clean hair will provide the best surface for optimal color absorption. Avoid using conditioner and allow the hair to air dry.
To protect the male wig from color stains, cover the Styrofoam with conditioner before attaching the hair system. Before coloring, make sure to detangle the hair completely to avoid wasting time later on. 
Step 2: Prepare & Mix the Dye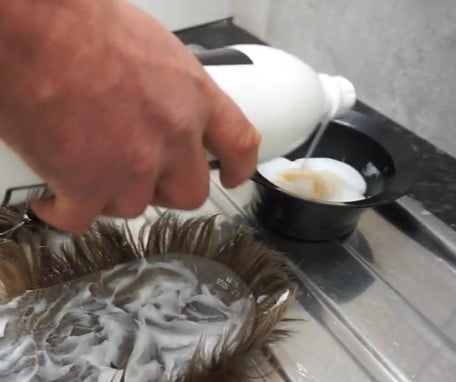 Sectioning your hair into quadrants is a helpful technique. It allows for greater precision, saves time, and ensures accuracy when applying dye. Be sure to put on gloves before you start and follow the instructions on the color package.
Step 3: Apply the Dye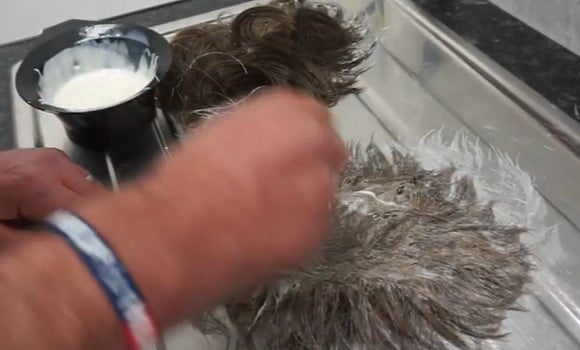 To apply dye to a human hair replacement system, divide the hair into sections. Begin at the back and work your way up, brushing the hair as you apply the dye to ensure even coverage. Leave the dye in for the recommended time until the desired color is achieved.
Keep in mind that non-growing hair is more porous than natural hair and will process the dye faster. Remember to check the hair regularly to ensure that it is getting the desired color.
Step 4: Rinse & Shampoo the Hair
After achieving the desired hair color, rinse the hair with warm water to ensure all color residue is gone. To prevent damage to the hair system, shampoo thoroughly to remove any remaining residue.
Step 5: Dry the Hair System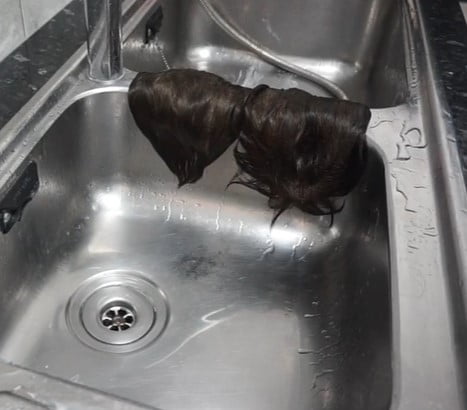 To avoid damaging the toupee, you can either air dry it, or gently use a microfiber towel or cotton t-shirt. It's important to remember that the hair system is very brittle when wet and you don't want to cause any tangles.
Step 6: Use a Leave-in Conditioner
After coloring, hair can become dry due to increased porosity. To hydrate and restore your hair, try using a moisturizing leave-in conditioner. Then, proceed to style as desired.
Dying Hair Systems: Factors To Keep in Mind
When learning all about can you color/dye hair systems, you must keep in mind the following factors.
Virgin Human Hair
Virgin Human Hair is the best option for dying your hair. It has not undergone any chemical processing, perming, dyeing, or bleaching. Since the hair strands are unaltered, they can easily absorb color.
Non-Virgin Human Hair
Human hair that is not virgin has undergone chemical processing which makes it less porous. However, it is still capable of being dyed successfully and yielding great color results.
Synthetic Hair
Synthetic hair is made from plastic fibers that imitate human hair, but it can't undergo the same processing as human hair extensions. It struggles to retain color pigment, and the dyeing process may harm the hair replacement system.
Picking the right color
Choosing a wig color that complements you can be challenging, especially since you will be wearing it daily. To figure out the best color match, it's important to consider your skin undertones. This can help achieve a natural look.
There are three traditional undertones for hair colors. If you have warm undertones, choose hair colors with cool shades of brown like chestnut or ashy colors. If you have cool undertones, neutral undertones, both warm skin.
Density
To properly dye the hair system, please consider its thickness and density as it will affect how much color it requires.
Base
It is crucial to prevent the color from touching the base, as this can harm the hair system and compromise the toupee's durability.
Common Questions About Can You Color/Dye Hair Systems
Can you color/dye hair systems?
Yes, human hair replacements offer a lot of versatility in terms of styling, texture, density, and color. Whether wearers prefer to stick to their natural hair color, try a subtle change, or go bold with loud colors, they have the ability to experiment without worrying about damaging the hair.
Can you dye a synthetic wig with hair dye?
Most synthetic hair fibers are made of nylon or acrylic, which cannot be dyed with regular hair dye. You'll need to use fabric dyes instead. However, not all wig colors can be achieved, just like with real hair, you can't lighten the color of the hair.
Can you dye a toupee?
To match your hairpiece with your natural hair color, it is recommended to choose a color that is slightly lighter by one or two shades. This is because non-growing hair is more porous and absorbs color faster. Choosing the appropriate tone will help you achieve a better match.
Where should you dye a hair system?
It's important to choose a well-lit room when coloring your hair system. It's best to do it during the daytime with natural light to ensure you can accurately see and judge if you've achieved the desired color.
Final Thoughts
So, can you color/dye hair systems? Whether you are looking to add some color to your hair system or just want a change of style, dying and coloring hair systems is an option. With the right materials and techniques, it can be done safely with minimal damage to the system.
However, before taking any action make sure that you consult with a professional who understands how these types of products work in order to ensure that you get the look that you desire without damaging your hair system. Ultimately, if done correctly coloring/dyeing hair systems can give them new life and help create beautiful styles for years to come!