For millions of people suffering from hair loss, there are several options available for those in search of a solution. From hair transplants to advanced hair systems, the technology and care behind dealing with baldness are constantly progressing and improving. One of those solutions is tricopigmentation treatment and today we'll be telling you all about tricopigmentation benefits.
There are several procedures to tackle hair loss and these could be either temporary or permanent methods. Tricopigmentation is a relatively new treatment similar to scalp pigmentation, however with a few important differences. This technique involves the placement of tiny pigment deposits within the upper dermis of your scalp.
As intimidating as it may sound, tricopigmentation has been gaining major popularity as it offers fantastic results. Knowing which hair loss treatment will work for you with several options in the market sounds like a challenging task. To help you in the right direction, continue reading and go through all the major tricopigmentation benefits.
Tricopigmentation FAQ's
What is tricopigmentation?
Like scalp micropigmentation, tricopigmentation is also a treatment that simulate the look of real hair follicles by injecting microscopic specialized pigmented ink into the superficial layer of the dermis, in balding or bald areas of the scalp.
Why choose tricopigmentation?
The same reasons that recipients get micropigmentation also apply to tricopigmentation. The procedure is quite similar, albeit a bit faster, but it still can restructure a thinning hairline or replace lost hair density.
Since it's more non-invasive and faster to inject, tricopigmentation is often used by hair clinics to restructure patient hairlines or camouflage a transplant scar, just like with scalp micropigmentation.
However, some patients are adverse to the idea of a permanent hair tattoo or aren't sure if the pigments will look like real follicles. In this case, tricopigmentation is a temporary alternative to hair transplant surgery or permanent treatments like scalp micropigmentation.
When is tricopigmentation recommended?
Alopecia Condition: With a condition as alopecia, tricopigmentation can be used to hide symptoms. It becomes unbearable for those suffering from the condition due to its unpredictable nature.
Restructuring of the Hairline: Tricopigmentation helps to rearrange the hairline as it should be. Since balding makes the hairline scattered, tricopigmentation aims to rebuild the new hairline as it is preferred. It helps to find the hair pattern and also reduces hair loss.
Scar Camouflage: Tricopigmentation is also applicable to hair transplant surgery scars. Depending on how good the technician is, there are no scars that can't be covered by tricopigmentation.
Replacement of lost hair density: Tricopigmentation can aid in the simulation of the missing density of hair. This is done regardless of how much hair the recipient has lost and can help in recreating a full head of hair on your bald scalp
Is tricopigmentation safe?
It is important to note, that the Tricopigmentation effect does not last forever, but is temporary compared to the tattoo technique, lasting for 1,5-2 years, as we all change over time, permanent effects can become not natural as time goes by, making this technique absolutely safe and natural.
How much does tricopigmentation cost?
Team Micro's Tricopigmentation Cost Calculator estimates between $2250 – $3000 for severe alopecia, while hair pigmentation costs between $2,500 – $4,000. Tricopigmentation is supposed to be more affordable because it's temporary.
How long does tricopigmentation last?
SMP lasts a maximum of 8-12 months. Advanced tricopigmentation is an innovative pigmentation treatment that produces the most natural-looking results possible.
How does tricopigmenation work?
Tricopigmentation, as a temporary option for scalp micropigmentation, involves the application of tiny pigment deposits on the upper dermis.
There is tricopigmentation equipment that is meant to be used directly on the scalp of your skin.
Every time, the same amount of pigment is released by the tricopigmentation needle at the same time.
The tricopigmentation pigment is measured as less than 15 microns, making it very small to be absorbed by the body then later released as waste.
Tricopigmentation vs Scalp Micro Pigmentation
The main difference between scalp micropigmentation (SMP) and tricopigmentation is permanence and cost. Whereas scalp micropigmentation is similar to permanent tattoos, tricopigmentation is only semi-permanent, fading away after 12 months.
The term tricopigmentation is basically a synonimous of temporary scalp micropigmentation.
Tricopigmentation is a temporary form of micropigmentation. The lifespan of tricopigmentation is typically six to 18 months, at which point many people opt to get their treatment reapplied.
The main difference between hair pigmentation or scalp micropigmentation and tricopigmentation: is that scalp micropigementation is permanent while tricopigmentation is not.
Like scalp micropigmentation, tricopigmentation can be used to make your hair look fuller, shape your hairline, cover up scars, or get a full head tattoo if you have alopecia or are completely bald.
While laser can be used to remove or fix a bad SMP job, the pigment used for tricopigmentation makes it impossible to remove until they allow the tricopigmentation treatment to naturally fade away.
Tricopigmentation requires much more maintenance and additional treatments in the long run to maintain a buzzcut look.
With hair pigmentation or scalp micropigmentation, you can expect to get a touch-up every 4-6 years. However, tricopigmentation requires touchups every 6-18 months which can become time-consuming and costly.
Scalp micro pigmentation is more consistent, natural, requires less maintenance, and is less expensive in the long term.
When it comes to cost in the tricopigmentation vs. SMP, it can be very tricky because both do have their pro and con regarding the cost. Having your pigment for the first time, you might want to consider tricopigmentation, and this is because it is very cheap at the start.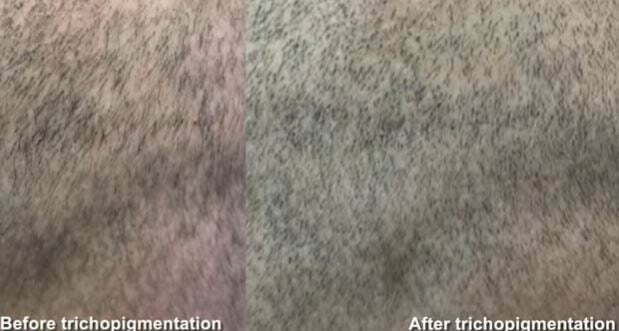 Tricopigmentation Main Benefits
Disguises hair loss and bald spots
Uses semi-permanent pigments that fade faster
Not as expensive as SMP, you also ways read about both procedures from our story on Hair Pigmentation vs Tricopigmentation.
Treatments are faster and non-invasive
The Tricopigmentation treatments are reversible with no need for additional treatment for removal.
No risk of 'Helmet head' with Tricopigmentation.
No risk of over densification of hair follicles with Trico and Pigmentalia due to the unique follicle placement system used.
No risk of pigments changing color in years to come as Tricopigmentation pigments never change color and have been uniquely designed to mimic that natural keratin pigments in natural hair.
Pigments can be matched to all-natural hair colors (excluding redheads or very light blonde)
No risk of pigments blurring or bleeding into the permanent dermis layer of the skin as in the vast majority of instances will happen with scalp tattoos in years to come.
Tricopigmentation pigments only enter the epidermis layer of the skin and therefore will not blur or bleed.
Long-term top-up costs and life-long costs for Tricopigmentation are lower than traditional scalp micropigmentation or hair tattooing.
Tricopigmentation never has to be laser off. No risk of scarring due to laser removal and no risk of the laser not being able to remove the permanent ink as found as a consequence in every form of laser tattoo removal.
Hairlines can very easily be altered and adapted with Tricopigmentation to move with the client as they age without the need for any other form of reversal procedure.