Have you experienced or struggled with hair loss and are in the search of a solution? Then you may be interested or perhaps you've already heard about hair tattoos. There are several options available for those in search of a solution when it comes to hair loss. From hair transplants to advanced hair systems, and perhaps most recently, hair tattoos. The reason why today we'll be telling you all about hair tattoos for women; what results can you expect?
Hair tattoo for women is getting more and more popular and there's a good reason; this is a great solution for women who suffer from hair loss and look for a more permanent result. When performed by a professional, the process is applied to the scalp and lasts for years, which means you'll be worry-free for a long time.
A hair tattoo can help you gain back your confidence and self-esteem, something that many women suffering from hair loss, struggle with and deal with on a daily basis. With many options in the market for hair loss, opting for a hair tattoo may sound intimidating at first, however, this technique has shown great results. Continue reading and learn everything you need to know about hair tattoos for women.
Hair Tattoo FAQs
Can you get your hair tattooed?
You may think a hair tattoo is the same as a normal tattoo on the rest of your body, but it actually involves a different cosmetic process. You can receive a hair tattoo from a scalp micro pigmentation SMP artist and from a dermatologist.
Do women need hair tattoos?
While we have mostly heard of men getting SMPs due to hair loss problems, this problem is also something that many females go through in life. Although it is perfectly natural to lose about 50 to 100 hair strands per day, some women experience heavy hair loss that completely shows from outside.
What are the most common causes of hair loss in women?
There are several causes of hair loss in women. The most common ones include medication, stress, or even deficiency in your diet, and it can also be triggered by major changes to the body like childbirth and menopause. Any imbalance in the body can trigger the shedding of hair or an accelerated loss of hair. Besides major hair loss reasons, women might lose their hair due to many other reasons such as:
Thyroid problems
Polycystic ovary syndrome (PCOS)
Pregnancy and childbirth
Oral contraceptive pills
Chemotherapy
Harsh diets
Anxiety disorders
Does hair tattoo for women look natural?
If you suffer from thinning hair and mild cases of female pattern baldness (i.e if you don't have hair loss at the front of your head) hair tattoo for women will look natural on you. However, if you want to make sure of this, it is recommended to book a consultation session with a professional.
Who could benefit from hair tattoos?
Hair tattoo could be of benefit for women who suffer from
Female pattern baldness: This issue is also known as androgenetic alopecia. Female pattern baldness is mostly genetic and causes thinning hair or loss of hair at the top in women.
Female thinning hair. Thinning hair usually happens in women due to hormonal problems, this could be conditions such as thyroid, menopause or even taking medication that affects hormones.
Alopecia areata in women: Alopecia areata is an autoimmune disease that causes hair loss. This hair loss usually happens in patch-shaped areas on the head.
How long do hair tattoos last?
Often referred to as a cosmetic hair or scalp tattoo, this treatment typically lasts 4-6 years. After that time, a client may experience some slight fading, to which they can come back in for a quick touch-up. This cosmetic solution will not wash off but can be tweaked as years go on.
How much is a hair tattoo?
Bald or balding people can expect to pay between US$1,500 and US$3,000 for their hairline tattoo. For a full hair tattoo, the cost can go as high as US$4,000.
Does scalp micro-pigmentation prevent hair growth?
Hair growth naturally speeds up and slows down in cycles. If someone who has received scalp micropigmentation notices slower hair growth, it's not related to the treatment. It is just part of the normal hair-growth cycle. The average person has around 100,000 hair follicles on their head and many more over their body.
Does hair tattoo hurt?
On a scale of 1 to 10, pain levels may sit around 1 to 4 on average. Compared to pain from getting a tattoo, the pain from scalp micropigmentation is less intense as we are only going 2 layers into the dermis of the skin, much more shallow than a traditional tattoo. What if you also want to get your eyebrows done? should you choose micropigmentation or microblading?
Does tattooing cause hair loss?
The location of the hair follicle is significantly deeper down than the deposition of the tattoo ink. Thus, it won't affect nor hinder hair growth.
Hair Tattoo
Process:
In scalp micropigmentation for women, a cosmetic tattoo artist will draw hair-shaped follicles on areas of the scalp missing hair.
In this procedure, there is no need to shave the client's head. Only a gentle numbing cream is applied. The expert will use a micropigmentation device ( a special pen with tiny microneedles at the tip) to insert pigments that look like hair follicles.
These pigments will also add to the density of your existing hair shape.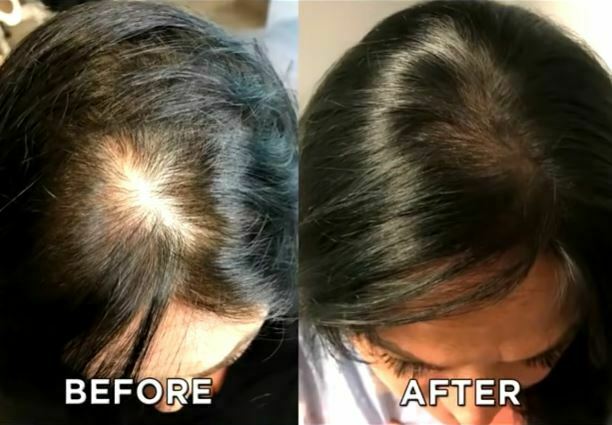 Results:
There are many ways to treat hair loss in women. These ways include surgical and non-surgical ways. They all have perks and cons. But hair tattoo for women has become the best choice if you don't suffer extreme hair loss at the front or widely spread on your head because it is
Non-surgical
Long-lasting results (at least 5 years)
Much less painful than hair transplant surgery
Maintenance-free
Coverage for scars or other imperfections on your head
As with other tattoos, hair tattoos are permanent. The uniquely formulated ink matches the hair color of each person. This means that the hair won't change color as the body adjusts to it over time.
It's best advised to cut your hair short so that it has the best blend.
As for fading hair, some women notice it several years after treatment. If you notice this occurs, a simple touch-up session will help you make it fresh again.
What if you have grey hair already is it too late? Not at all, that procedure is called Salt and Pepper Hair Scalp Micropigmentation.
What should you have in mind after each treatment?
Overall, the treatment process should not cause any major disruptions in your daily activities. For best treatment results, it is advised to avoid using shampoo for five days. You should also avoid sweating excessively during that time frame.
Once you've completed your last treatment, you should avoid these places for four weeks. This will help ensure that your treatment is effective.
Pools
Saunas
Steam rooms
Tanning beds
What if a procedure went horribly wrong? if that is the case then what you need is a Hairline Correction.