Are you or someone you know in the search for a solution to cover up a hair transplant scar? Then you may be the right candidate for scar camouflage micropigmentation. If you've been wishing to cover up a scar on your scalp, this may be your chance. Today we'll be talking about scar camouflage micropigmentation to cover up hair transplant scars and more.
As you may imagine, there are millions of people who struggle with hair loss and subsequent scarring from hair transplant surgeries; so, know that you are not alone and there's no shame in seeking a more permanent solution. With many options in the market, choosing the right hair loss treatment may sound like a challenging task.
However, scalp micropigmentation has proven to be an effective solution, changing the lives of many by giving them the appearance of their dreams and forgetting about hair loss issues and scaring from past surgeries. If you are ready to leave the old you behind, keep reading and learn more about scar camouflage micropigmentation to cover up hair transplant scars.
Scar Camouflage FAQ's
What is scar camouflage?
Scar camouflage is a long-term solution that works on hiding the scar with tattoo treatment. Covering your scar with a flesh-colored tattoo can come by many names, including scar camouflage, corrective pigment camouflage, and skin color tattooing just to name a few, but the most common term is scar camouflage.
What is scar camouflage micropigmentation?
Scar or Skin Camouflage Micro Pigmentation is a form of medical or paramedical tattooing. This process is also called Corrective Pigment Camouflage (CPC), Corrective Camouflage, Skin Repigmentation, Scar Camouflage, Skin Camouflage, Camouflage Tattooing, and Skin Color Tattooing.
It is a very specialized area of permanent makeup as it requires advanced knowledge, training, and experience in permanent cosmetics as well as an artistic eye for color and skin tones.
Why choose scar camouflage?
Both men and women can benefit from scar camouflage procedures. Facial burns; scar discolorations, vitiligo, and other blemishes can often be dramatically diminished through advanced micro pigmentation. Although the success rate of these procedures is very high, often multiple treatments are necessary in order to complete the process.
Is scar camouflage a lengthy process?
Although this may seem like a lengthy process this can't be rushed as it takes time to make sure the color develops well. Scar tissue, unlike normal skin, is not as flexible or smooth. It is often distorted, mangled, raised, or sunken and will most certainly react differently from normal, healthy skin.
When is scar camouflage not advised?
The scar is still pink or changing color (has to be at least one year old)
The scar is not smooth or flat enough (If your scar or skin area is bumpy or raised, the process may not be effective)
The scar has dark edges (Indicates Post Inflammatory Hyper-pigmentation (PIHP) from the initial trauma or surgery. CPC can make it worst. Dark skin tones especially are affected)
If you have Keloids
Also not advised for spider veins; freckles; age spots; under-eye circles; hyper-pigmentation
What are some of the benefits of scar camouflage and micropigmentation?
Scar camouflage with medical micropigmentation may be the ideal option for you if you wish to improve the appearance of scars, burns, or other skin discolorations.
This procedure is effective for most types of scars, burns, or skin conditions such as vitiligo.
Reduce the appearance of scars and burns
Correct skin discoloration
Increase self-esteem and confidence
How do scar camouflage and mircopigmenation work?
By using a custom pigment blend to match your exact skin tone, the professionals are able to expertly conceal and eliminate any scars or blemishes.
Enhancing the appearance of your skin is an effective way to boost your confidence and self-esteem. It's possible to get rid of scars, burns, and other skin imperfections that make you feel dissatisfied.
This procedure is minimally invasive and offers natural-looking results.
How much does scar camouflage cost?
The average cost of scar camouflage is $300 per area per session.
How long does scar camouflage heal?
It takes, on average, 60-120 days for Brazilian Stretch Mark and Scar Camouflage clients to fully heal.
How much is a scar camouflage tattoo?
$350/hour. This procedure uses pigments in a range of tones to match the skin.
Micropigmentation to Cover Up Hair Transplant Scars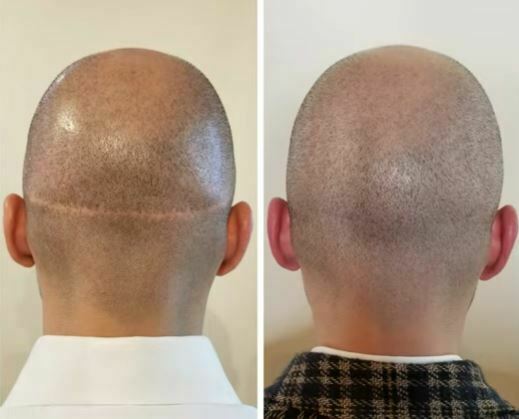 Can scalp micropigmentation hide hair transplant scars?
Though FUE scars are difficult to spot, they may leave you feeling self-conscious. These scars, though small in size, can have a negative impact on your image. Luckily, with SMP, these scars are easy to hide.
How does micropigmentation to hide hair transplant scars work?
Camouflage ink "fades" the scar by first blending the discoloration into the surrounding skin before moving forward with a standard micropigmentation procedure to give the appearance of natural hair growth, as if the scar was never even there.
Micropigmentation offers a way to hide hair transplant graft scars by replicating the appearance of hair regardless of whether you have short or long hair. There's no invasive surgery, no scarring, and no downtime.
By literally stimulating the appearance of hair, micropigmentation can help camouflage scars. For any cosmetic tattooing is the only answer.
Micropigmentation is an effective solution for patients with strip follicular unit transplant donor scars or hair transplant graft scars in order to help camouflage the scar.
What does the process of micropigmentation to hide hair transplant scars involve?
The SMP technique involves the strategic placement of tiny dots in the same way and growth pattern in which the client's hair grows naturally, in order to keep the 'effect' the same.
Pigment matched to the hair color is implanted under the skin and the dots are placed on the scar tissue with a digital state-of-the-art handpiece.
With the technique results are long-lasting and trauma is kept to a minimum. Scars can be camouflaged by reducing the contrast between the scar area and the surrounding skin with hair. You'll be asked to come back to determine if the treatment needs to be further enhanced.
The finished results are very convincing and look very natural.
Is micropigmentatio to hide a hair transplant scar painful?
Experts say it hurts less than having a regular tattoo, and certainly a lot less than having a hair transplant. Scalp micropigmentation doesn't penetrate the skin as deeply as normal tattooing.
How much does scar micropigmentation cost?
The presence of scarring may require special time and consideration from a technician. Since hair does not grow over scar tissue, and micropigmentation is meant to mimic natural hair stubble, other accommodations must be made.
For lighter scarring, implementing a specialized technique along with normal micropigmentation treatment will usually be enough to hide the blemish. For more pronounced scarring, technicians might recommend focusing on the scar treatment before proceeding with the full scalp micropigmentation treatment, or pre-treatment with a revolutionary camouflage ink system may be recommended.