Are you looking for a new way to switch up your look? Short hair systems are the perfect way to add a modern and stylish twist to any hairstyle. Whether you're tired of the same old style or just looking for something different, short hair systems can provide an easy solution. With so many options available, it's easier than ever to find one that works with your unique style.
In this article, we'll discuss what short hair systems are and how they can be used to create a variety of looks. We'll also explore some tips and tricks for getting the most out of these versatile pieces. By the end, you should have all the information needed to make an informed decision on which hair system is right for you!
Short Hair Systems Explained
Short hair systems are pieces of artificial hair that are attached to your head to make it look like you have short hair. These hair replacement systems are ideal for men who want to achieve a natural and remarkable look, and they are more effective than other hair loss treatments.
In recent years marked by social media and the spotlight on glamour, non-surgical hair replacement systems have become a top choice and effective solution for treating hair loss. These hairpieces can give you a natural and beautiful look, regardless of whether you prefer short or long hair.
What To Look For In Short Hair Systems
By considering texture, styling options, and maintenance requirements, you can ensure that you'll find what you are looking for in short hair systems.
Match your base color
If you want to get a short hair replacement system, make sure to choose a base color that matches your scalp. This is important because when you style your short hair, more of your scalp might be visible.
Short or very short
To choose the right hair prosthesis base, it's crucial to specify whether you'd like short or very short hair with volume (somewhat messy) or short/very short and flat hair. The base options will vary based on your preference.
Match your texture
When choosing among short hair systems, make sure to match the texture of the hair to your own. Short hair systems come in a variety of textures such as wavy, straight, and curly. Consider what type of texture best suits your face shape or lifestyle and choose accordingly!
Styling
Go with a bit of puffy style to ensure that not much scalp is showing. Additionally, if you are looking for more flexibility with styling your short hair system you could opt for one with heat-resistant fibers which allows you to use a range of styling tools such as a curling iron, flatiron, or hair dryer.
This will give you more freedom when creating different looks with your short hair system!
Comfort
Make sure to choose the most realistic option for the wig so that it is more comfortable to wear.
Maintenance
Pay attention to the maintenance instructions that come with your short hair system. Most short hair systems require special care and routine maintenance in order to keep them looking their best. Follow the instructions for cleaning, conditioning, and styling to make sure your short hair systems look their best day after day.
Best Short Hair Systems That Get the Job Done
---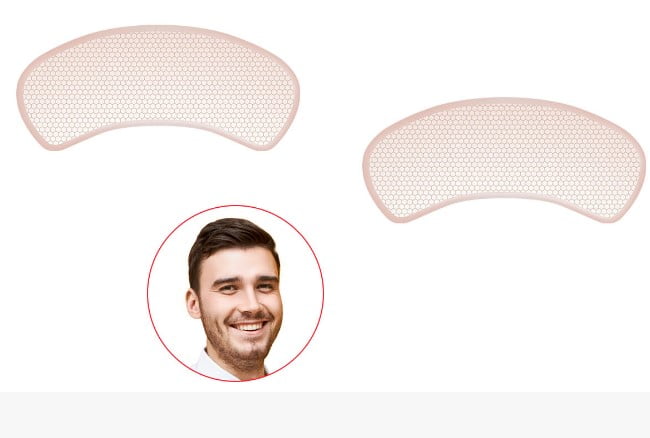 Are you looking for a short hair system to cover your receding hairline? Look no further than Lordhair's custom lace frontal toupee!
This breathable and lightweight hairpiece is perfect for those who want to be active while wearing it.
Design your own look with different colors, curls, densities, and lengths. Get the best coverage possible with this custom lace frontal today!
---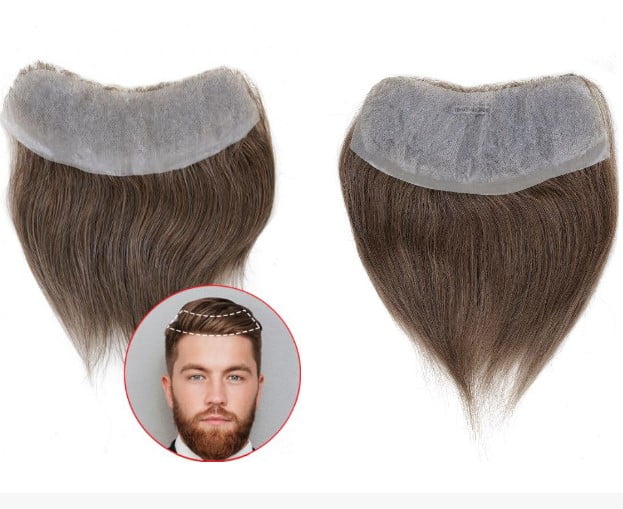 This custom thin-skin toupee is another fantastic option among hair systems perfect for short hair.
Perfect for men with receding hairlines and special long or curly hair requirements. Get the best of both worlds with this customized solution with a transparent super thin skin base with V-looped hair all over.
---
Short Hair Systems Styling Tips
Styling short hair replacement systems can be tricky because there isn't a lot of hair to work with. So, there are certain things that you need to keep in mind.
To simplify the process, consider finding a wig that is pre-styled to your liking. This will allow for easier combing and styling, while also minimizing scalp visibility.
To achieve a natural look with a wig, it's essential to match the color of the wig's base and hair with your skin tone and natural hair color. Communication with your stylist is crucial to ensure that they understand your requirements and can provide you with the desired look in your wig.
Investing in a specialized comb for hair systems is crucial but often overlooked. Hair systems are different from natural hair and require special care. Using a regular comb can result in damage to the base or the hair of the hair system or toupee. Therefore, it's important to use a specified comb designed for these systems to ensure their proper maintenance.
Common Questions About Short Hair Systems
How to attach short hair systems?
To achieve a natural, flowy look with the hair system, it's important for the hairpiece to closely resemble human hair and to be attached properly to your head. Here are some tips for installing a men's hair unit:
– Choose an adhesive recommended for your type of base
– Align the scalp and application markers correctly
– Apply an adequate amount of adhesive with care
– Wait for the adhesive to dry completely before pulling on the wig
What is the best short hair system if you want volume?
For short hair with volume, try using a knotted hair base. This style creates volume that is perfect for short hair. If you want to add 2 centimeters of length with volume, choose a lace or a medium to thin knotted skin.
What type of hair system is best?
There are two popular types of lace base systems: French lace and Swiss lace. French lace is breathable, delicate, and durable, and works best in the front of the hair system because of its natural color. Swiss lace is the most undetectable and breathable base material, providing a natural look.
How long do hair systems last?
Generally, hair systems tend to last for 6 to 10 months. However, it is important to note that tape or liquid adhesive tends to degrade at a faster rate. To maintain the bond, it is advisable to get the bonding replacement and reattachment done every 6 to 8 weeks.
Final Thoughts
Overall, short hair systems offer a great way to switch up your look without the commitment of cutting or coloring. Whether you are looking for an everyday style that is easy to maintain, something more dramatic and eye-catching, or anything in between – there's sure to be a short hair system out there that can suit your needs.
With so many options available on the market today it can feel overwhelming trying to find the perfect one for you. However, with some research into what works best for your lifestyle and preferences, you're sure to find something that will make you look good and feel even better!