Are you looking for the perfect hairstyle to complement your hair system? Finding the best hairstyles for hair systems can be tricky. With so many options out there, it can be hard to decide which one is right for you. Fortunately, we've done the research and compiled a list of the best hairstyles for hair systems that will help you look your best.
From classic cuts to modern styles, this guide has something for everyone! Whether you're looking for something low-maintenance or an edgier style, we've got you covered. Read on to find out more about our top recommendations for the best hairstyles for hair systems and how they can help enhance your overall look.
Best Hairstyles For Hair Systems Explained
If you're wearing a hair system, you want to make sure it looks natural and stylish. The key to making sure your hair system looks natural and stylish is to choose a hairstyle that suits your face shape and lifestyle.
For example, if you have a round face, you may want to opt for something with softer lines around the face or longer layers around the crown. If you're more active, a shorter style might be best as it won't get in your way.
What To Consider For When Looking For The Best Hairstyles For Hair Systems
Versatile style
Firstly, you should check that the style fits well with the base of your hair system so you don't end up with an unnatural finish. You should also make sure that the style is versatile and can be styled in different ways so you can switch up your look when needed.
Styling
When it comes to styling, there is a range of products available that can help you achieve the perfect finish. Heat tools such as curling tongs and straighteners are great for creating volume or texture, whilst a good quality hairspray can help to hold the style in place.
You should also make sure you use products specifically designed for use with hair systems as they will be more gentle and won't damage the system.
Easy maintenance
You may want to consider using a wig cap or netting over your hair system to help keep it secure and protect it from damage. This will also help you to create a natural-looking style that won't give away the fact that you are wearing a hair system.
Hair system's default length
Make sure to request specific lengths for certain sections, the default hairstyle you choose will be cut at a predetermined length.
Hair system base
To achieve specific hairstyles with a hair system (also known as a hair toupee or wig), it is best to use different bases such as full French lace, Swiss lace, welded Mono, and super-thin skin base with V-looped hair. These bases allow for versatile styling. However, styles like brushback hairstyles do not work well with injected hair systems and PU perimeter hair systems.
Natural Hair
To look natural and blend with your own hair, certain toupees require that your natural hair be a certain length. Without the appropriate length, the hair system will not look undetectable.
Best Hairstyles For Hair Systems
There are many hairstyle options available for hair systems. Some places provide a professional haircutting and styling service where you can send a picture of your desired hairstyle and they can create it for you. This includes a variety of styles. Examples of some of the best hairstyles for hair systems include:
Side fringe hairstyle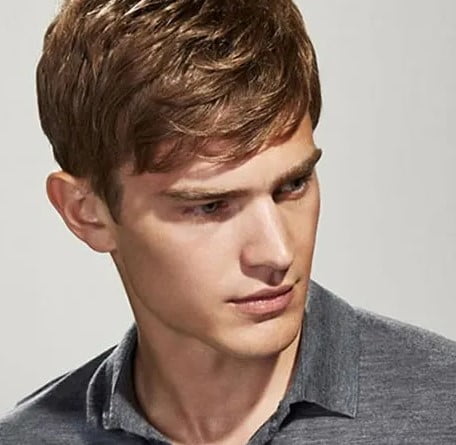 A side fringe haircut for a hair system is when the hair is cut so that the fringe, or bangs, fall to one side of your face. This style looks nice and can help frame your face.
Quiff hairstyle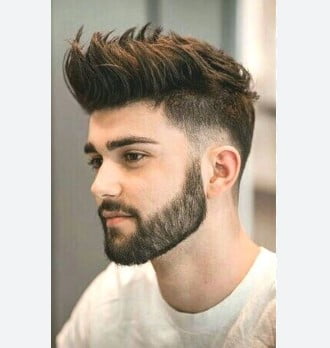 A Quiff haircut for a hair system is when the hair in the front is styled up and back in a way that looks like a wave. This style looks great and can be dressed up or down depending on the occasion. This look is among the favorite best hairstyles for hair systems.
Pompadour hairstyle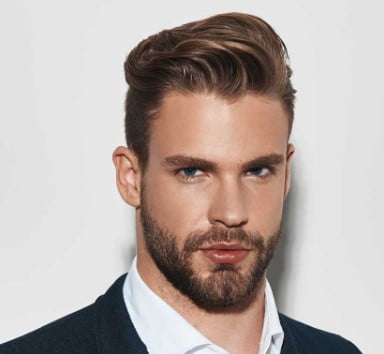 The Pompadour haircut is a timeless and stylish look that has been popularized by celebrities like Elvis Presley. The style involves combing the hair back and away from the face, often creating a quiff-like structure on top. This classic look was inspired by the hairstyle of Madame de Pompadour, mistress of Louis XV. It's a great choice for those looking to make a statement with their hair system.
Brushback hairstyle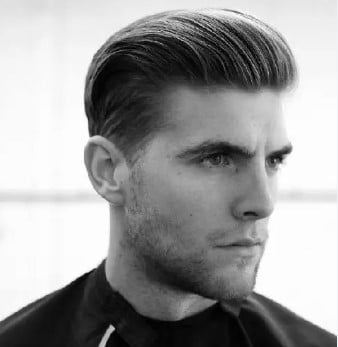 The Brushback haircut is a classic men's hairstyle that provides a neat, professional look. The cut is characterized by short hair at the sides and top of the head, with the back, brushed down and slightly higher than the front. The length of the hair at the top can vary from long to very short, depending on preference.
Ivy League hairstyle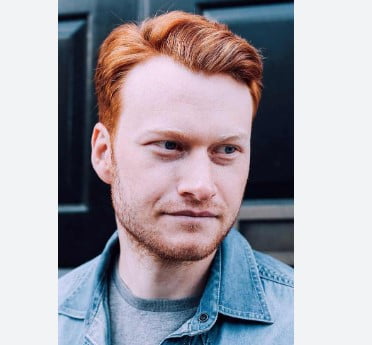 The Ivy League haircut is a timeless and classic men's style that originated in the 1950s. The style is characterized by a full head of hair, generally cut short on the sides and back with a slightly longer length at the top.
The Ivy League haircut is usually styled with an even finish and slightly rounded or tapered edges, making it one of the best hairstyles for hair systems as it is easy to maintain.
To achieve this look, start by washing and drying your hair system. Once dry, use a comb to create a part on the side or in the center of your head before using clippers to cut the sides and back of your hair short.
Finish by trimming the top hair to your desired length and styling it with a comb or brush. Finally, use some light-hold hairspray to set the style in place.
Undercut hairstyle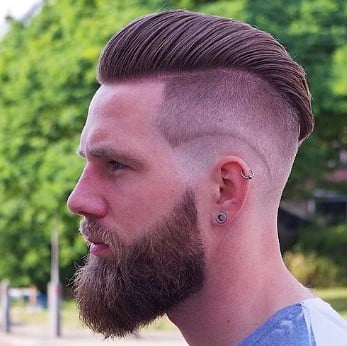 An undercut haircut is a style where the sides of the hair are cut shorter than the top. This is a great look for those who want to switch up their style without making any drastic changes. You can pair the undercut with different hairstyles, such as a pompadour or a comb-over.
Permed hair cuts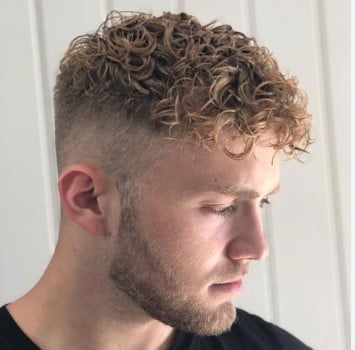 A Permed hairstyle is a style of haircut that makes your hair look wavy or curly. It's a popular style for people who wear hair systems, which are special pieces of hair that you can attach to your head to change your look.
Afro haircuts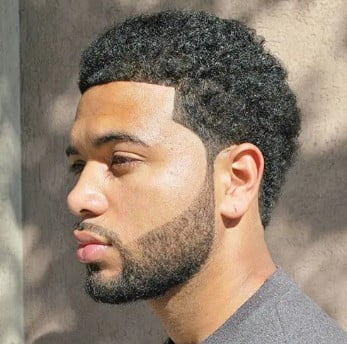 Afro haircuts are a style of haircut that is characterized by tight, small curls and/or kinks arranged around the head. Often, the hair is kept in its natural state, without any chemical or thermal straightening processes.
This style is often chosen for its versatility and low maintenance requirements; it can be worn in a variety of different styles, from the classic Afro shape to more modern looks.
If you're looking for a low-maintenance hairstyle that still looks great with hair systems, an Afro haircut is a perfect choice. When paired with a good quality hair system, an Afro cut can create incredible volume and dimension.
For those who have shorter hair length, an Afro cut is a great way to get fullness without the need for extensions or weaves. For a sleek look, the sides can be styled into tight cornrows. If you prefer more volume, opt for larger curls and waves that will give you maximum movement and definition.
Common Questions About Best Hairstyles For Hair Systems
Can you choose any hairstyle you want with a hair system?
You're not limited to only these hairstyles, nor do you have to choose a style that hides your hairline. With the use of the right hair system, like the ultra-thin, you can achieve a very natural-looking hairline and feel confident styling your hair backward without any worries.
Remember that wearing a non-surgical hair replacement system allows you to have a full head of hair, which means you can experiment with various styling options to achieve the look you want to showcase in public.
What is the best hairstyles for hair systems that require little maintenance?
For men who like low-maintenance hairstyles with minimal upkeep and shorter hair, a short fringe is a great option. It looks neat and tidy on the right person and also helps to hide the front hairline.
What is the best hairstyle if you want to look stylish and cool?
A messy faux hawk can be a stylish way to add texture and volume to your hair, regardless of length. Longer hair will make the look more striking, and you can enhance it by keeping the sides and back short to create contrast and make the top appear fuller. If done correctly, the style can also help to conceal your front hairline.
Final Thoughts
When it comes to finding the best hairstyles for hair systems, there are a few key considerations that should be taken into account. From choosing a style that suits your face shape and lifestyle to taking care of your hairpiece properly, these tips can help you find the perfect look. With some experimentation and practice, you'll soon have an amazing new hairdo that looks natural and lasts longer than ever before!
Whether you're looking for something classic or modern, short or long – with the right products and techniques at hand, any look is achievable when using hair systems. So go ahead – experiment with different styles until you find one that's just right for you!