Looking to know more about what are the types of hair systems? We hear you! Whether you're experiencing hair loss due to age, illness, or genetics, hair systems offer a solution to regain confidence and a sense of normalcy. Hair systems are custom-made solutions that mimic the natural appearance of hair and come in a variety of materials, colors, and styles.
In this article, we'll explore the different types of hair systems available, including full lace, partial lace, and skin-based systems. We'll also discuss the benefits and drawbacks of each type, so you can make an informed decision on which hair system is right for you. So, let's dive in and learn more about the world of hair systems!
Types Of Hair Systems Benefits
One of the major advantages of a hair system is that it is not a surgical procedure, so clients are not at risk of medical complications like infections, anesthetic dangers, or scarring. Moreover, unlike surgical transplants, hair system application is pain-free, which makes it a more comfortable option for clients.
Features To Look For In Types of Hair Systems
When choosing among Types Of Hair Systems, it depends on your preferences and the level of hair loss, as well as your budget. You also want to keep in mind the following features.
Base Size and Shape
Women's hair systems usually have a larger base size compared to men's systems because they are usually full-cap wigs that extend past the nape. This is because women's hair loss patterns commonly begin at the crown or part line instead of the hairline.
On the other hand, men often experience hair loss only in a specific area, so their hair systems are mainly toppers or small-patch hair systems.
Base material
The material used for making men's and women's hairpieces, also known as toppers, is usually either lace, polyurethane, or monofilament. Women's wigs typically have lace material at the front and wefting at the back.
Hair density
Women's hair systems may have less dense hair compared to men's systems because the natural texture of women's hair is typically finer and thinner.
Hair type
The hair used in a hair system may differ depending on gender. For men's hair systems, coarser hair is often used, while for women's systems, finer hair that matches their natural hair texture may be used.
Hairstyle options
Women's hair systems offer a wider range of hairstyle options including longer hair lengths and more varied styles. However, men's hair systems are usually designed for specific hairstyles such as short, professional cuts.
Attachment methods
The ways in which hair systems for men and women are attached can differ. Men's systems generally use adhesives, such as glue or tape, and occasionally clips, whereas women's systems usually use clips and sometimes adhesives, since they may be reluctant to shave their hair due to the pattern of their hair loss.
Types Of Hair Systems For Both Men And Women
It's possible for women to wear hair systems marketed for men and vice versa.
Full Cap Wigs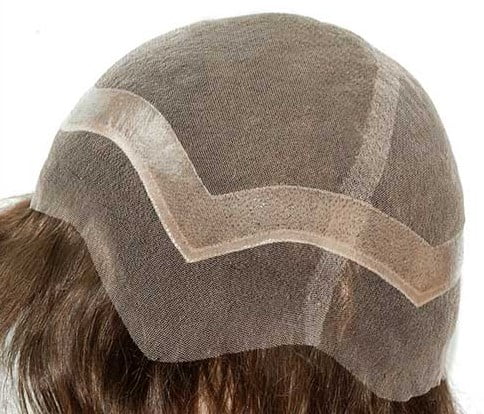 Full-cap wigs are made of human hair and are designed to completely cover the head. They are commonly used for cosmetic or fashion purposes and come in a variety of colors, styles, and textures. Wefting wigs are typically worn by women, while men often choose lace, skin, or mono wigs that extend all the way to the nape.
Men's full-cap wigs are custom-made while wefting wigs for women can be purchased ready-made since they can stretch. Lace, skin, or mono wigs cannot stretch and must be custom-made for women.
Hair Toppers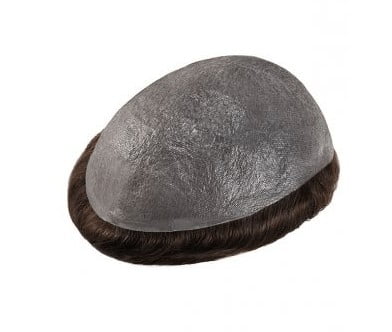 Wiglets or hair toppers are created to conceal hair loss on top of the head for both men and women. They come in various sizes, shapes, colors, and lengths and can be made from human or synthetic hair.
Hair Integration Pieces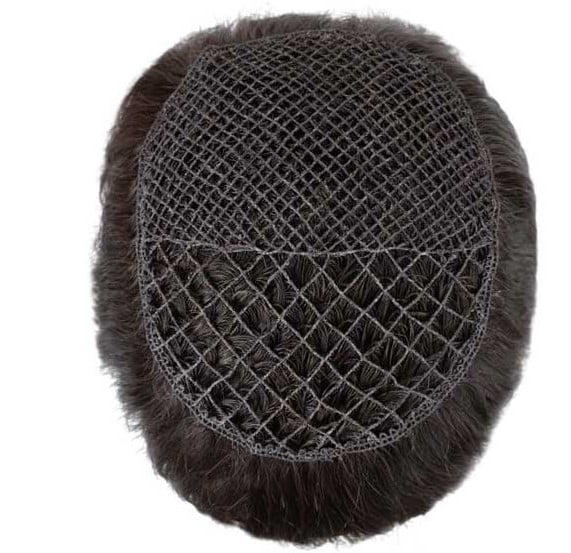 Hair integration pieces are hairpieces worn by women to add volume, length, or coverage to areas of hair loss. These pieces are not marketed to men as they tend to experience a complete loss of hair in certain areas, leaving no hair for the integration wig to grip onto. Additionally, integration wigs are best suited to long hair and women with hair thinning all over.
Frontal Hair Systems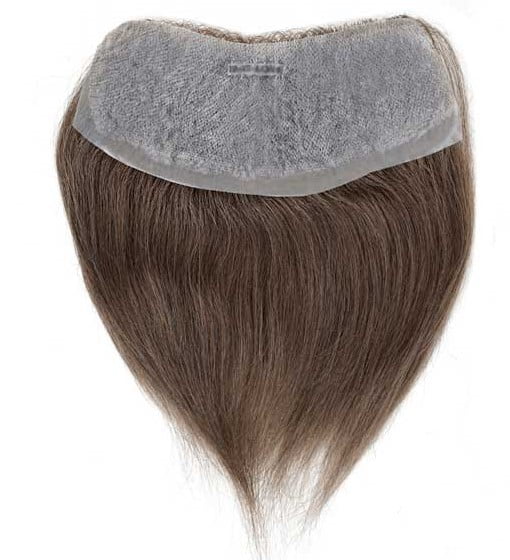 Frontal hair systems are hairpieces that cover hair loss specifically at the hairline or front of the head. They are usually smaller than full-cap wigs and can be held in place using either clips or adhesives.
Medical Wigs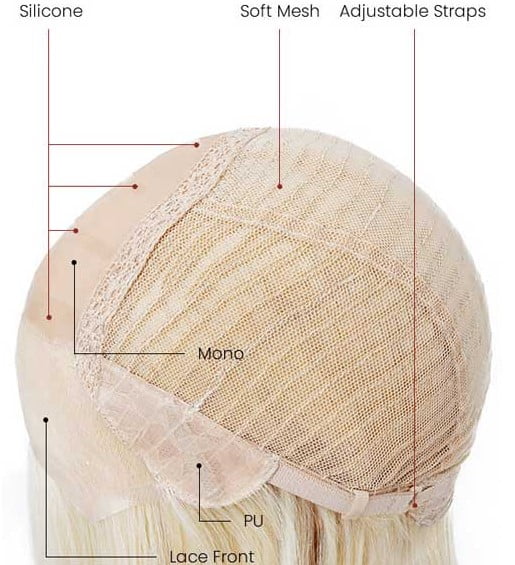 Medical wigs are specially made for people who have lost their hair due to medical reasons such as chemotherapy. These wigs are made from high-quality human hair and are designed for comfort, breathability, and ease of use.
They cover the entire scalp and are typically custom-made. While they are similar to full-cap wigs for men, medical wigs primarily cater to women and feature long hair.
Hair Extensions
Hair extensions are used to increase the length and volume of a person's hair. They are typically made from synthetic or human hair and are applied using clips, tapes, or adhesives.
It's important to note that they only add volume to the ends of the hair, not to the crown. For more natural-looking volume and hair health, they can be paired with a women's topper.
Oversized Hair Systems
Hair systems that are oversized are meant to cover a greater surface area of hair loss than typical-sized hair systems. They can cover hair loss on the entire top area of the head as well as its sides. These hair systems could be more costly than standard-sized systems and may necessitate more upkeep.
Regular-Sized Hair Systems
Hair systems of regular size are intended to cover only a specific hair loss area, like the top or crown of the head. They are circular in shape and smaller than full-cap wigs. You can secure these hair systems with adhesives or clips.
Hair System Base Types
Skin Hair Systems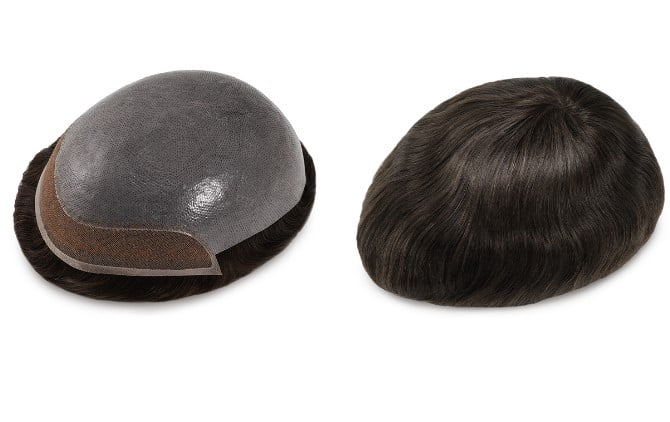 Skin hair systems consist of a thin layer of polyurethane material that is transparent and shaped to match the wearer's scalp. These systems are intended to imitate the look of natural skin.
Advantages:
Highly durable
They are virtually undetectable as they offer a natural-looking hairline.
Easy to attach and remove
Disadvantages:
Wearing them in hot weather can be uncomfortable
Cleaning thin hairpieces can be challenging
The skin material used in hairpieces may get damaged over time, which may require frequent replacement
Lace Hair Systems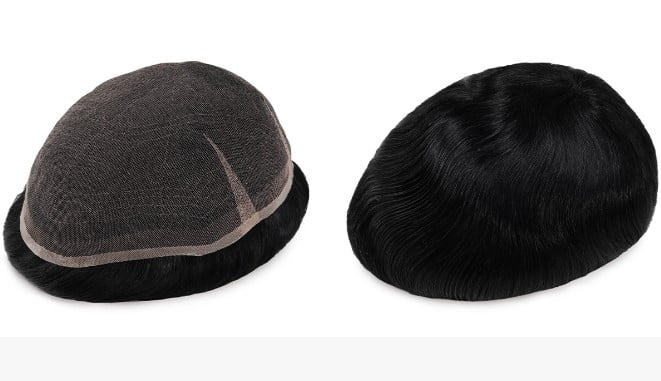 Lace hair systems are hair systems that use a thin, see-through mesh material that closely imitates natural hair. The mesh is usually crafted using either French or Swiss lace.
Advantages:
The wigs are lightweight and comfortable
Natural-looking hairline that is difficult to spot
They are also highly breathable, allowing for airflow on the scalp
Simple to attach and remove.
Disadvantages:
It is important to handle them with care to avoid damage
It is recommended to use tape instead of glue as it works better with lace
Mono Hair Systems
The Mono hair systems resemble natural hair and are crafted from lightweight, permeable fabric. Either silk or nylon is commonly used to make this material.
Advantages:
They can be long-lasting
They allow for good air circulation on the scalp
They are easy to attach and remove.
Disadvantages:
Other types of hair systems may need less maintenance than them
Other types of hair systems may be easier to attach than them
They are less natural-looking than other hair systems
They may cost more than other types of hair systems
Stock VS Custom Hair Systems Types
Stock Hair Systems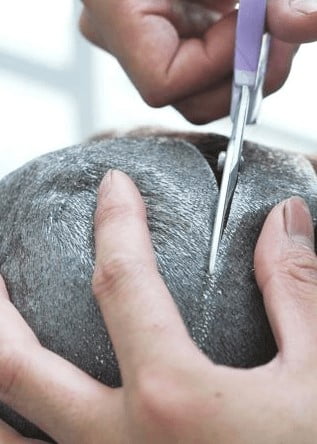 Pre-made stock hair systems are available in standard sizes and colors and are generally less expensive than custom hair systems. They also have the advantage of quick delivery. However, they may not fit perfectly for everyone and the hair color and texture may not match exactly with the wearer's natural hair.
Advantages:
Readily available for quick delivery
These systems are also more affordable
Wide range of colors, textures, and styles to choose from.
Disadvantages:
Hair systems that are not customized to the wearer's head shape and size may not fit everyone perfectly.
Additionally, stock hair systems may offer limited options for styling hair, and may not be of the highest quality due to mass production.
Custom Hair Systems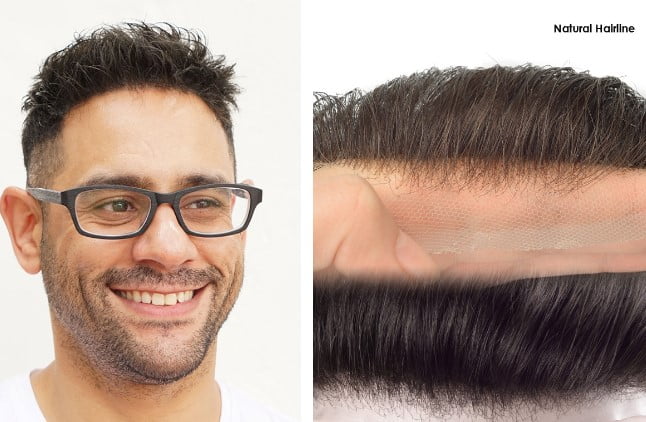 Custom hair systems are personally tailored to the wearer's measurements, including head size and shape, hairline, and hair density. The hair color and texture are also matched to the wearer's natural hair.
Advantages:
Custom hair systems are tailored to the wearer's exact preferences, ensuring a perfect fit and comfortable feel.
The wearer has the freedom to select the hair length, texture, and style as well, resulting in a personalized product.
These hair systems can appear quite natural
Disadvantages:
Custom hair systems typically cost more than stock systems
They may take a few weeks to be made and delivered
Wearers may need to put in extra effort to maintain their appearance
Common Questions About Types Of Hair Systems
What is the most comfortable hair system base among types of hair systems?
Hair systems with a French Lace base are a popular choice because they tend to be more comfortable than hair systems with other bases. This is why French Lace has always been a preferred material for hair systems.
What is the most undetectable hair system?
Many people prefer lace base hair systems due to their breathability and undetectable appearance, making them a popular option.
The lace material used in these systems is lightweight and comfortable, and it is specifically designed to be invisible along the front hairline. Hair is tied into the lace material to create a natural-looking appearance.
Final Thoughts
Choosing the right hair system for your needs can be a tricky decision. With so many types of hair systems available, it's important to understand what each one offers and how they are best used. We hope this article has provided you with an overview of the different kinds of hair systems on the market today as well as tips on finding a solution that works for you.
No matter which Types Of Hair Systems or brands you choose, having access to quality resources will help make sure your transition into wearing a new hair system is smooth and successful!