Are you looking for the best tape for hair systems? Whether you're using a full lace wig, a toupee, or any other type of hair replacement system, there are various types and brands of tapes available. It can be challenging to determine which one is right for you.
In this article, we will provide an overview of the different types of tapes that are used in hair systems and help guide you in choosing the best tape for your needs. We'll also discuss how often these tapes should be replaced and offer tips on the proper application so that your hair system remains securely attached all day long.
Best Tape For Hair Systems Explained
Tape is a popular method of attaching hair systems because it is easy to use, safe to remove, and less harmful to the hair system.
Best Tape For Hair Systems is a type of tape that is used to attach hairpieces to your head. It helps them stay in place and look natural. There are a few different kinds of tape available, and choosing the right one is essential for achieving a secure fit.
The best tape for hair systems will be one that is
Easy to apply, long-lasting, and provides a strong-hold
It should also be gentle enough on the scalp that it won't cause any irritation
Consider testing out different types before settling on the one that works best for you. Additionally, be sure to follow any instructions provided by your hair system's manufacturer to ensure a secure fit and long-lasting results.
Best Tape For Hair Systems
Below you can find the best tape for hair systems suitable for both poly and lace hair systems.
---
3M Daily Tape/Super1522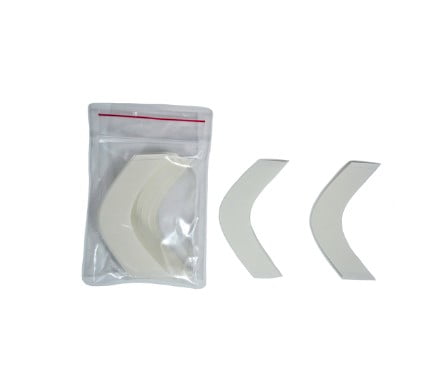 This toupee tape is available in rolls of 3, 12, or 36 yards and is the most preferred choice for daily wear.
It is suitable for individuals who wear poly skin hair systems, including ultra-thin skin units. It can also be used by those who remove their systems every few days.
The tape is clear, gentle on the skin, and hypoallergenic, which means there is no risk of experiencing an allergic reaction from the adhesive.
---
Super Red Liner Tape/Red Liner Tape/Walker's Tape Red Liner Sensi-Tak Tape/Liberty Red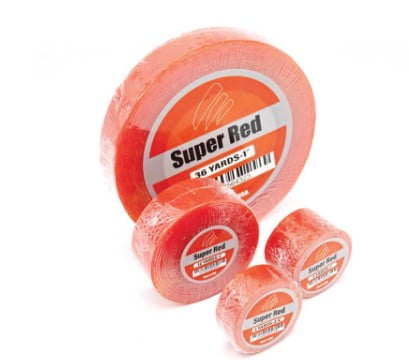 The Super Red Liner Tape is the perfect choice for those who are looking for a tape that won't leave behind any residue. It offers a powerful hold of two to four days, making it suitable for those who like to refresh their hair system every few days or so.
This liner tape comes in red, while the actual tape is clear, giving you an almost invisible solution without compromising on strength and reliability.
If you're looking for the best tape that can securely keep your hair system in place all day long, then look no further than Super Red Liner Tape – ideal for wearers who want nothing but premium quality and performance.
---
Brown Liner Tape (German Tape/German Brown/Green Tape)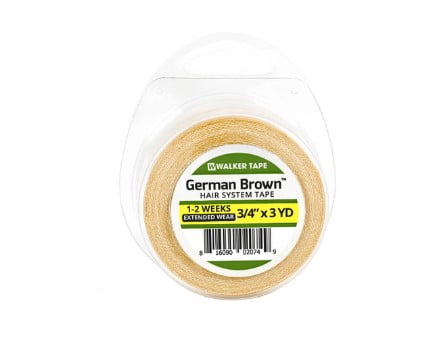 Brown Liner Tape, also known as German Brown or Green Tape, is an ideal option for those with poly hair systems.
It has a thick and creamy color with a brownish-mustard colored liner that can last between one to two weeks. This makes it perfect for those who want something more than daily wear but not quite enough for a long-term commitment.
With its gooey consistency, Brown Liner Tape leaves minimal residue behind while providing the best tape quality available for hair systems.
---
Sunshine Tape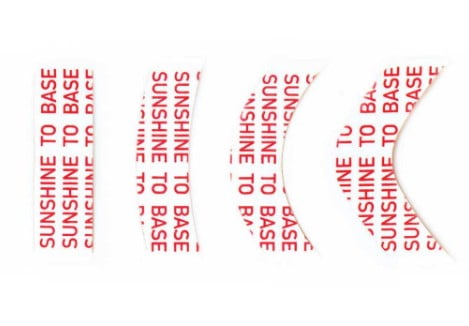 Sunshine Tapes are the perfect solution for people looking for a reliable and secure way to keep their hair systems in place. These tapes come in strip form, with A, C, and CC curves available to suit your needs.
They create a safe barrier between the base tape that adheres to the scalp and the unit itself. With wear times of up to one or two weeks, these tapes are great for those who prefer daily removal but can also be used over longer periods of time when needed.
Sunshine Tape is your best option when it comes to finding high-quality tape for keeping your hair system securely in place!
---
Extendabond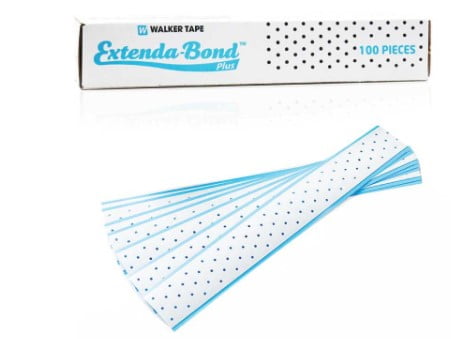 Walker Extendabond Tape is one of the best tapes available on the market for wearing a hair system. It comes in strips, with a blue and white liner, and an invisible clear tape.
The incredibly secure full-head bond provided by this tape allows for extended wear times of up to three to four weeks!
Make sure your hair system stays put without having to worry about it being too loose or falling off due to slipping with Extendabond Tape from Walker – the perfect choice for those seeking reliable longevity when it comes to their hair systems.
---
Vapon Topstick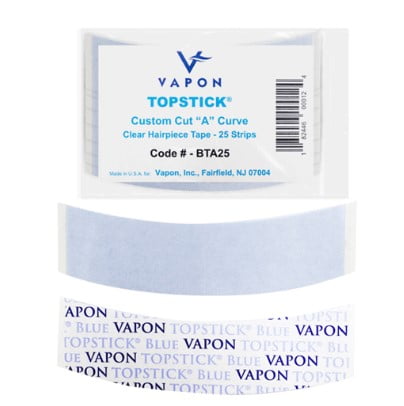 Superhairpieces has just added Vapon Topstick to its lineup, and it's quickly becoming a go-to when you need the best tape for hair systems. These clear 1" x 3" strips stick on any areas of your hairpiece where extra coverage is needed.
They're ideal for daily use and can be trimmed if required — though they prove most reliable on poly skin bases.
The Blue Type A cut works great with lace systems as well, boasting an impressive hold time of up to five weeks! With Vapon Topstick men's grooming tape, you have the perfect solution for extended or monthly wear that won't let you down.
---
Super Blue Liner Lace Front Tape/Walker Blue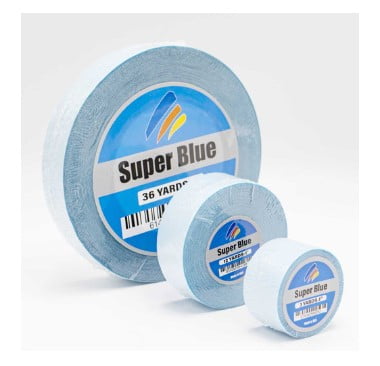 Super Blue Liner Lace Front Tape/Walker Blue is the perfect choice for hair systems. This transparent tape comes in a range of lengths, from 3 yards to 36 yards, and offers a stronghold that can last up to three weeks.
It's also ideal to pair with Red Liner tape for added durability. With this option, you'll get all the benefits of premium-quality tape without having to hire an expensive hairstylist or team.
Get your hair systems looking their best with Super blue liner lace front tape!
---
Ultra Hold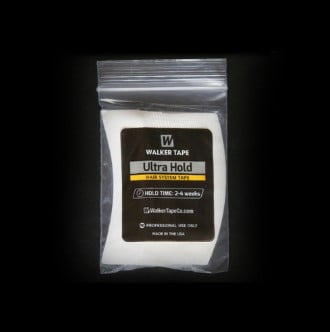 Walker's Ultra Hold Tape is the best tape for hair systems, providing a secure and flexible hold that lasts up to four weeks.
This clear tape comes in three sizes – 3 yards, 6 yards, and 12 yards – giving you just the right amount of material for your hair system.
With an extreme hold that won't let go easily, you can trust Ultra Hold Tape to keep your hair looking great without needing frequent maintenance.
---
No Shine Tape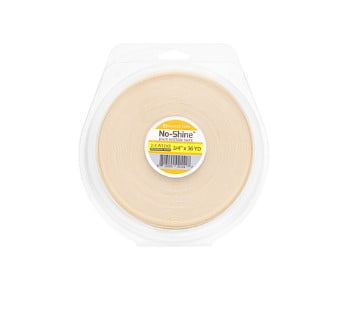 No Shine Tape is the perfect solution for those looking to achieve a natural look with their hairpiece. This tape has no shine, making it virtually invisible and ensuring your hair system looks flawless each time you wear it.
It also has hypoallergenic properties, making it safe for sensitive skin types. No Shine Tape comes in 3, 6, 9, 12, and 36-yard rolls so that you can choose the best length to fit your needs.
Whether you're planning on wearing your hairpiece daily or weekly, this tape is sure to hold it secure and comfortable throughout its use – making it the perfect choice when trying to find the best tape for hair systems!
---
Super Tape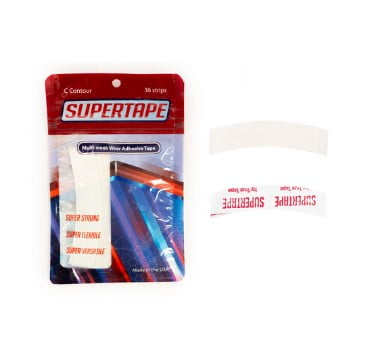 Super Tape from True Tape is one of the best tapes for hairpiece wearers who prefer to perform self-maintenance.
The clear, waterproof tape comes in rolls or strips and has a stronghold that can last three to four weeks.
It's easy to clean and won't melt on your skin like blue tape often does. If you're looking for an efficient yet gentle type of tape, this product is perfect as it will help keep your hair system secure with minimal irritation.
---
Types Of Best Tape For Hair Systems
Poly hair systems or poly perimeters tapes
For those who use a men's toupee with a poly skin hair system, this means is safe to apply to both full poly bases and poly on the sides, so there's no need to be concerned about tape compatibility with a skin base hair system.
Poly and lace hair systems tapes
You might be curious about why the tapes mentioned earlier aren't suitable or recommended for lace systems. The reason is that these tapes are not adhesive enough to stick to the lace material and will come off easily.
Furthermore, these tapes may be too strong for the delicate lace material, which could cause tearing while removing them. However, the tapes listed below are compatible with both poly and lace hair systems.
Common Questions About Best Tape For Hair Systems
Which is better for a hair system glue or tape?
Using tapes to apply and remove hair replacement systems is typically easier than using liquid adhesives. Tapes are more forgiving during installation and are therefore a good option for beginners. They hold firmly in place, whereas liquid adhesives can be messy and runny.
How long does tape last on hair systems?
Generally, hair systems last 6 to 10 months, but the tape or liquid adhesive used to attach them degrades faster. It is usually necessary to replace and reattach the bonding every 6 to 8 weeks. Your daily activities will determine how often you need to replace your hair system adhesive.
Final Thoughts
Whether you're trying to find a reliable tape for your hair system or just want an easier way to manage it, the right tape can make all the difference. We hope this article has given you some valuable insight into which tapes are best suited for different types of hair systems and how they work. With our top picks in mind, we know that finding the best tape for hair systems is now within reach!
Take your time when shopping around and don't forget to consider what type of adhesive works best with each individual brand before making a purchase. Good luck on your journey towards achieving healthy locks with quality products!