Integration Hair Systems are an innovative way to achieve a natural-looking, beautiful hairstyle. This revolutionary hair system is designed to blend seamlessly with your existing hair and provide full coverage for thinning or balding areas. With Integration Hair Systems, you can restore your confidence and look years younger without the hassle of daily styling and treatments.
Whether you're looking for a temporary solution or a permanent one, this state-of-the-art technology offers outstanding results that will make heads turn! Read on to learn more about how Integration Hair Systems can give you the look you desire.
Integration Hair Systems Explained
Hair integration systems are a technique that allows you to attach a hair topper and weft hair extensions to your own hair, especially when you don't have enough hair to attach them using traditional methods. This system can be attached for several weeks, which means you can sleep, exercise, and shower with it.
These units can make the hair appear fuller, but they are not recommended for the crown area if there is hair loss because the net will be visible.
How Integrations Hair Systems Work
To attach the mesh, you need to pull your available hair through the holes and use microbeads to secure it. These are the same beads that hair extensionists use for single-piece hair extensions.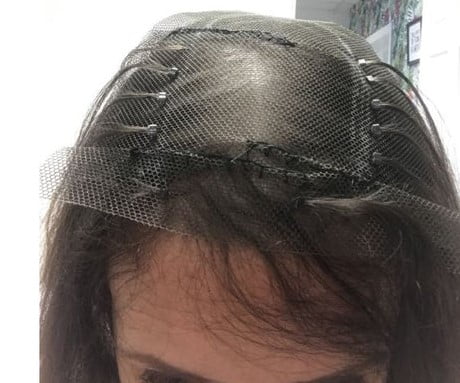 After the mesh has been attached to your scalp, a topper (also known as a parting) will be sewn onto it. There are different sizes and qualities of toppers available. The finest ones are bigger and have a silk base.
Once the mesh base is securely in place, the weft hair extensions will be sewn onto it. It's important to note that the quality of hair extensions can vary significantly.
Integration Hair Systems Benefits
Immediate Results
Quality Integration Hair Systems provide immediate results, in contrast to hair transplant surgery which can take several months to become apparent. To use the system, a mesh must be custom-made for your scalp and then attached for optimal results.
Custom-Made Hair Integration Systems
The mesh integration system is designed to assist those experiencing hair loss and engaging in physical activities. It is customized to fit the length, thickness, and color of the wearer's hair. The hair attached to the mesh will match the wearer's natural hair color, although alternative shades can be requested.
Mesh Systems Do Not Affect Your Normal Routine
The Integration Hair Systems is designed to not interfere with the wearer's daily routines. The system can be washed, styled, or dried just like natural hair. Additionally, the mesh is breathable, allowing the wearer to exercise without their scalp overheating.
Using conditioner after wetting your hair is important to keep your hair integration system in good condition.
Avoid exposing it to chlorinated water since it could damage the natural hair of the hairpiece. Using the correct hair products will help keep the system healthy and increase its lifespan.
The Mesh Will Fit the Wearer's Scalp Perfectly
The mesh hair integration system is designed to fit seamlessly on the wearer's head due to its permeable mesh. It will blend in with the wearer's natural hair, making it virtually undetectable to others.
The mesh is lightweight and delicate, ensuring that it won't be visible when the wearer styles her hair. Additionally, she can easily attach it around her hairlines.
Lasting Solution
Hair integration systems offer a semi-permanent solution for hair loss compared to temporary wigs or toupees. It is important to tighten the mesh and maintain the system every six weeks to keep it in place. With proper maintenance, the mesh integration system can last for a considerable amount of time.
Best Integration Hair Systems
---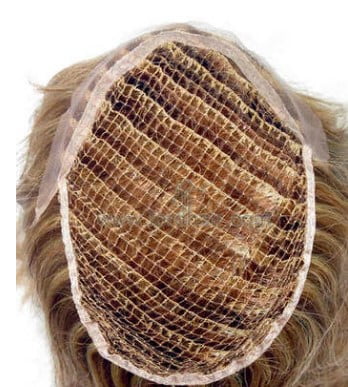 This Custom Made Human Hair Integration Systems with Mono Lace Front provides a perfect solution for those wishing to wear a custom hair replacement system without shaving their heads.
The base construction is made from a polyester line net which features tiny 1/4″ x 1/4″ square holes, and the edges are lined with nylon ribbon that helps keep the wig secure.
This design also includes fine welded mono lace on the front of the wig, allowing you to pull out individual strands of hair through the larger net holes for added realism and comfort. With this system, people can enjoy natural-looking results without compromising their looks or lifestyle needs.
---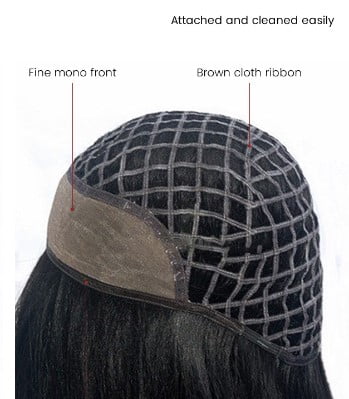 The cloth ribbon integration full cap wig is an ideal hair system for women suffering from thinning hair.
This wig features 1/8 inch wide brown cloth ribbons which are braided into a full cap, and the holes in the ribbon are 1/2″ square to allow clients to pull their own hair through.
The front of this wig has fine mono wefts and the sides feature elastic bands for secure fitment. With this convenient and comfortable solution, women can enjoy a natural look while having coverage of their thinnest areas.
---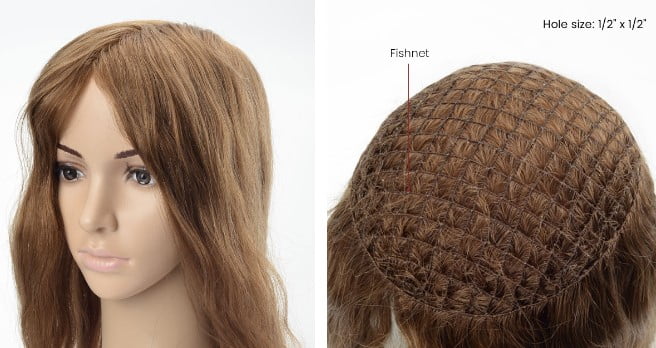 The Fishnet Integration Hair System is designed to give women with thinning hair a simple, seamless way to add volume and achieve the look of fuller hair.
The fishnet base can be customized to match your hair type and color, allowing you to easily pull in your own locks through its specially-sized holes.
With this system, you don't have to worry about balding or patchy spots – just secure it on your head and enjoy natural-looking results that last all day!
---
Common Questions About Integration Hair Systems
How long does the integration hair system last?
Mesh integration systems are more durable compared to wigs, which tend to lose their shape after a few wears. With proper care, the system and hair can remain intact for up to 12 months.
Who is a good candidate for integration hair systems?
To ensure the strength of your hair to support a system, it's best to have a professional technician conduct the necessary checks. The system can be an effective solution for people experiencing trichotillomania and female pattern baldness.
There are many places that offer installation services for various conditions, but you will be required to sign a contract acknowledging the potential risks involved.
How should you wash your hair with integration hair systems?
The process of washing hair extensions also applies to hair integration. Avoid applying conditioner to the roots and use quality products.
Gently wash and dry without rubbing the hair. Be patient as additional hair may take a while to dry and it's best to let it air dry as much as possible before using a blow dryer.
Never sleep with wet hair.
Video Mesh Hair Integration System
The video showcases a hair integration system being used on a client who has Alopecia in the front region of their head.
Final Thoughts
Integration hair systems are a great way to add volume and length to your natural hair without having to commit to permanent extensions or wigs. They offer the flexibility of being able to style them in any way you want, as well as easily removing them when desired. With proper care and maintenance, integration hair systems can last for many years, giving you beautiful locks that look like they're naturally yours!
If you've been considering trying out integration hair systems but aren't sure where to start, don't worry – there are plenty of resources available online that will help guide you through the process. So what are you waiting for? Get ready to experience the beauty of integrated hair systems today!