Are you looking for an easy and cost-effective way to improve your appearance? Hair systems for men reviews can help! Hair Systems For Men are a great option. They provide natural-looking hair with no need for surgery or expensive treatments. With so many different types of hair systems on the market, it can be difficult to know which one is right for you.
That's why we've put together these Hair Systems For Men Reviews to help you make an informed decision when choosing a hair system. We'll cover all the essentials of hair systems available and more. Read on to learn everything you need to know about hair systems for men!
Hair Systems For Men Reviews: Pros & Cons
Advantages of Using Hair Systems For Men
One of the most evident benefits of wearing a toupee is that it conceals hair loss.
Toupees are a simple solution for concealing hair thinning and baldness and can be used to cover up diffuse thinning or bald patches without needing significant intervention.
If you want to hide your hair loss in public but don't want to undergo medication or hair transplant surgery, wearing a human hair wig or toupee can be a suitable option.
Disadvantages of Using Hair Systems For Men
One thing to keep in mind is that a high-quality hair toupee can be quite costly, both in terms of the initial purchase and the professional fitting.
Unlike cheaper wigs for hair loss that can be bought off-the-shelf, a high-quality hair system will require the expertise of a specialist to properly fit it to your scalp.
In addition to the cost, there are other downsides to using men's toupees. One of these is the hassle of applying adhesive every three to six weeks and trying to fit it onto your scalp.
A well-made toupee can closely resemble your natural hair, but a poorly-made toupee can be comically bad.
Treating male pattern baldness with toupees provides only temporary results. Removing the toupee will not resolve the problem, as baldness may become worse over time. Hair loss medications or surgery offer more lasting solutions.
Hair Systems For Men Reviews: Effectiveness and Cost
The cost of a men's hair replacement system will vary depending on the type of materials, hair, and construction that are used. Creating a system using certain methods can be a complex process that may take up to six months to complete adequately.
If you opt for a custom plaster mold of your scalp followed by hand-tying human hair into the system, be prepared to spend thousands of dollars.
To sum it up, the hair system's natural look and durability increase as you spend more. If you choose hand-tied human hair, you can enjoy greater styling versatility, but it can be quite expensive, sometimes costing thousands of dollars.
Standard wigs last only three to six months, but custom human hair wigs can last several years.
To keep your toupee in top condition, you'll need to clean and condition it as you would with natural hair. However, using these hair care products frequently can become costly over time.
Hair Systems For Men Reviews
---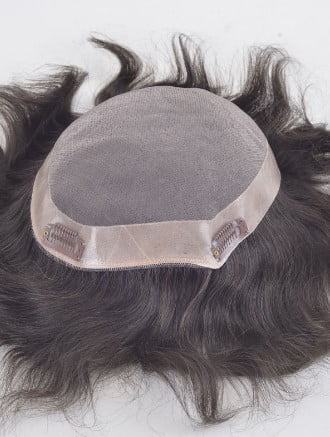 Among the Hair Systems For Men Reviews, we have the Royal-C's Men's Clip-On Hairpieces designed to meet the needs of men looking for an affordable and natural-looking solution for thinning hair.
Featuring a breathable base, strong clips, and a realistic front hairline, these hairpieces offer easy application with secure fitment.
Durable and lightweight, this versatile product is perfect for those wanting to use it on a daily basis. With Royal-C's clip-on haircare system, customers can be sure they're getting the highest quality product backed by great customer reviews.
---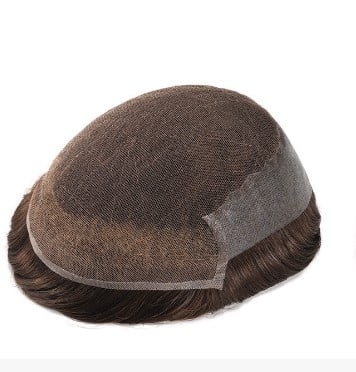 The Premium Hair French Lace Front and Top with Skin Side and Back offer a realistic look that makes it appear as if the hair is growing straight from your scalp. The base design features a French lace front and top with skin side and back, measuring 8'' x 10'' in size.
It's made using 100% Indian human hair with a 30 mm curl & wave, allowing you to style it freely according to your preferences. Featuring medium-light density for a natural look while bleached knots on the lace front ensure a completely undetectable bond line.
This system provides maximum breathability, comfortability, easy attachment, and high-quality hair so you can confidently rock this stylish look all day long.
---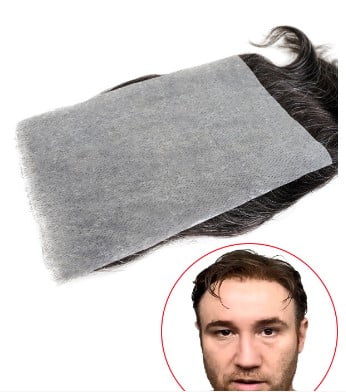 Among the best Hair Systems For Men Reviews, is the 6″ x 12″ Ultra Thin Skin Men's Freely Customizable Hair Frontal! This amazing product is crafted with a 0.03mm ultra-thin skin base and features 100% Indian human hair curls and waves in a medium light density.
It comes in Transparent Base Material Color and #4 Hair Color, with 6 inches of length for an incredibly realistic look and feel that is comfortable to wear. You can customize the specifications as per your needs for a cost-effective solution that fits you perfectly.
Get ready to make heads turn with this custom-made hair system – it's worth writing home about! And don't forget to check out more Hair Systems For Men Reviews online before purchasing.
---
Types of Hair Systems For Men
Clip-on Hair Systems
Men can use clip-on hair systems, also called hair wigs, to quickly and easily achieve a full and thick head of hair if they have thinning or balding areas on the crown.
These systems are comfortable, durable, lightweight, and highly realistic, providing excellent coverage and effectively addressing most hair loss issues.
Stock Hairpieces for Men
Our men's hairpieces for thinning hair are very popular due to their immediate availability in various sizes and colors. These hairpieces are made from natural and synthetic hair of supreme quality and are ideal for men who require them urgently.
Custom Hairpieces
Custom hairpieces are designed to meet the specific hair needs and preferences of the wearer. This makes them the ideal choice for men who want a hairpiece with features like customized hair color, hair density, texture, coverage, and base size.
Stock wigs offer a variety of pre-made styles and base options. Custom hairpieces allow you to choose and customize nearly every aspect to your liking.
Common Questions About Hair Systems For Men
Are hair systems for men worth it?
The advancements in non-surgical hair replacement systems for men have been significant in recent decades. Spending a few thousand dollars on a hairpiece can give you a highly realistic look that allows you to swim, style, and enjoy activities you previously took for granted.
However, it's crucial to keep in mind that it is still just a hairpiece, and not everyone may feel comfortable with it.
If you have decided that a hair replacement system is not for you, it would be helpful to talk to your healthcare provider. This will help you decide if medical treatments for hair loss could be a good option for you.
How long does a men's hair system last?
Depending on how well you take care of it, hair systems can last between 3 to 6 months. To maintain the hair system and keep both the hair and your scalp in good condition, we suggest scheduling a hair system refusion session every 3-4 weeks.
Video 19 Years Wearing A Hair System | Hair Loss Journey, Tips & Advice
Need Hair Systems For Men Reviews? Watch this video about Michael Raley who has been wearing toupee hairpieces since 2003 in this video, you can see him getting the M111 thin skin hair system installed. Both of them offer general tips and advice for anyone interested in getting started.
Final Thoughts
Hair systems for men can be an effective solution to hair loss, but it is important to choose the right one. By reading Hair Systems For Men Reviews, you can get a better idea of which ones are best suited for your needs and budget. With the help of these Hair Systems For Men Reviews, you will be able to make an informed decision that will give you optimal results.
Investing in a good quality hair system may seem expensive at first, but when compared with traditional treatments such as surgery or medications, they offer excellent value for money over time. So if you're looking for an affordable way to address thinning hair or baldness without compromising on quality or style, then consider investing in a top-rated hair system today!