Need hair systems reviews to give you some perspective? If you are looking for the best hair system to help you achieve your desired look, you are not alone. Hair systems can be a great way to get a new style without any of the hassles that come with traditional styling methods.
But before investing in one, it's important to know what other people have experienced and what they think of different types of hair systems. That's where hair systems reviews come in!
In this article, we provide an overview of different types of hair systems and their reviews so that you can make an informed decision when choosing one for yourself.
Hair Systems Reviews: Intro
A hair system is a type of wig made from either synthetic or high-quality human hair. It can be worn by people who experience hair loss or want to change their hair for theatrical purposes. Hair systems are sometimes called hairpieces, toupees, or units.
While hair systems are typically associated with men, many women use them to add length to their hair or cover bald patches.
Hair Systems Reviews: Benefits
Benefit #1: Hair systems are surgery-free
The main advantage of hair systems is that they do not require surgery, unlike hair transplants which involve surgical procedures that carry certain risks. During a hair transplant, you may experience temporary side effects like bleeding, scalp swelling, folliculitis, numbness, or infections.
To manage pain and discomfort, your surgeon may prescribe strong painkillers and antibiotics. Additionally, you may have to deal with long-term effects like scarring.
Benefit #2: Hair systems are more cost-effective
One major benefit of hair systems is cost savings compared to hair transplant surgery, which can be lengthy, repetitive, and expensive without ensuring long-term success.
If you're unable to spend a lot of money, there are hair systems available at various price points, including custom-made pieces, that are still much cheaper than surgery. While hairpieces may require periodic replacement, they still offer a more affordable initial investment.
Benefit #3: Nonsurgical hair replacements are not permanent
If you're someone who changes your hairstyle and color frequently or needs a temporary solution, hair systems are a good choice. Surgery is usually irreversible, and hair growth from transplants depends on the quality and quantity of healthy hair follicles available for transplant.
In addition, the placement of grafts is limited in terms of proximity which may impact the desired hair density and appearance. It's important to note that if the treatment does not meet your expectations or you are dissatisfied with the results, there is no way to reverse it.
Benefit #4: Hairpieces achieve instant results
It is important to note that hair transplant results are not immediate and take several months to a year to become noticeable. The surgery itself is a lengthy process, lasting several hours, and may need to be repeated three or four times to achieve the desired outcome. Additionally, it is necessary to wait between surgeries to ensure that each transplant has time to properly heal.
Hair replacement systems offer a nearly immediate solution, except for the time it takes for delivery after placing your order.
Benefit #5: Hair systems are extremely effective
If you want to address hair loss, comparing the results of a nonsurgical hair replacement to a hair transplant before and after will reveal that the best hair systems don't require painful surgery or significant financial investment nowadays.
Thanks to advancements in technology, you can find a hair system that looks like your real hair. Although some of them look more natural than others, you can easily find a hairpiece that looks realistic if you know what to look for. Additionally, proper care and maintenance of your wig will make it long-lasting and won't disrupt your daily routine too much.
Hair Systems Reviews: Characteristics
Custom-made hair systems are commonly used to meet the specific needs of a customer. They can be attached to the head with either adhesive or an elastic band. The key factors of a high-quality hair system include achieving an ideal match to the customer's hair, encompassing traits such as hair color, density, texture, and straightness.
The material used as the base for a hair system typically consists of polymers, meshes, or a combination of both. Mesh fabric is lightweight, comfortable to wear, and creates a natural, undetectable hairline. On the other hand, polymers are less expensive, durable, and easy to attach.
A hair system can be made from human hair, artificial fibers, or animal hair. The most expensive type of hair is European hair because of its softness. On the other hand, Asian hair is the cheapest option because it is dark and straight, meaning manufacturers have to dye or bleach it before it can be used. However, even the most expensive human hair is delicate and requires regular maintenance. Eventually, all types of human hair need to be replaced.
Hair Systems Reviews
Read on Hair Systems Reviews to find out more about these amazing and life-changing products and check which ones are right for you.
---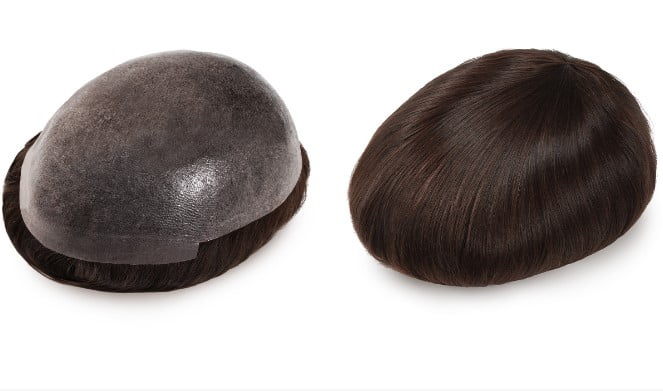 The Ocean|European Hair 0.08mm Injected Thin Skin Men's Toupee is the perfect choice for those looking for a life-changing hair system. It is made with 100% European human hair, providing natural and soft waves that can last far longer than other options on the market.
With a 0.08mm injection thin skin base and an 8″ x 10″ available size, this toupee offers a standard front contour that ensures maximum comfortability while wearing it. This product offers a medium density of 120%, along with customizable lengths of 6″, 8″, or 10″.
Hair direction can be freestyled as desired to achieve any look you are after! Read reviews to learn more about how this durable, comfortable, and easy-to-attach toupee can revolutionize your beauty routine today!
---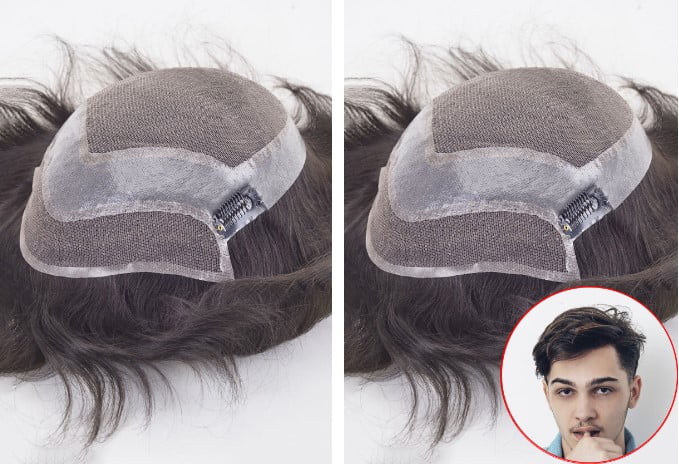 Hollywood Lace is the perfect solution for men looking to achieve instant hair transformation and a natural-looking result.
The clip-on hair system with French lace and thin skin perimeter offers an undetectable look that can be quickly and easily attached and then removed again in seconds.
With rave reviews from customers, our Hollywood Lace Hair System promises to provide you with maximum confidence when it comes to your hair.
---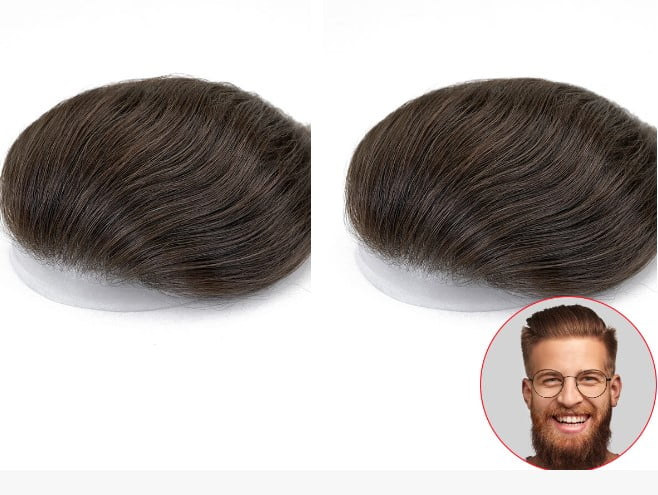 The Ultra Thin Skin V-looped Stock Mens Hairpieces with Brush Back Hair Style offers an undetectable base that looks and feels like natural hair.
This hair system uses ultra-thin skin at 0.03mm thickness, giving it both the appearance of a natural scalp and an airy lightness for easy attachment and styling freedom.
The knotless technology allows for hair to look as if it is growing out of one's own scalp, offering a more realistic look without compromising comfort or ease of use.
With a lifespan of up to one month, this system makes use of 100% Indian human hair (with gray hairs made from synthetic) in colors #1 through #6 and #18H with medium-light density and 5″-6″ in length with 30mm curl & wave patterning that brushes back naturally.
---
Common Questions About Hair Systems Reviews
Who should use a hair system?
Experiencing hair loss can be emotionally difficult. Hair system wearers are people who experience hair loss caused by various factors such as genetics, poor diet, radiation, stress-induced pulling, chemotherapy, alopecia, or scalp deformities.
As a result, the hair system is a non-surgical option for those looking to have a full head of hair without the expense and pain of surgery.
Video Thin Skin Hair System Review: Going to the Gym in a Sweatproof Poly Hair System | Lordhair
You can watch Juha demonstrate how his hair system reacts to exercise, an everyday life activity in this video. Moreover, you can get an even better idea of the quality of the hair system with Juha's honest hair systems reviews.
Final Thoughts
Hair systems reviews can be a great way to get an honest opinion about the quality and effectiveness of different hair systems. They provide an unbiased overview that allows you to make more informed decisions when it comes to your own hair care needs.
Whether you're looking for something natural, synthetic, or custom-made, there are plenty of options out there – so don't forget to read up on hair systems reviews before committing!
With a little research and some helpful guidance from other users who have tried these products themselves, you'll be well on your way toward finding the perfect solution for all your hair system needs.